Listen to the audio version of this article:
It's easy to feel out of your element when you first come across the concept of marketing automation.
There are thousands of marketing automation platforms available in the market – all of which have different dashboards, specialize in various marketing channels, and use their own terminology.
For those who are just entering the scene, all of it can be intimidating, to say the least.
In this guide, I'll try to show you that marketing automation isn't some far-out space technology that's reserved only for large companies with even larger budgets.
Below you'll find the essential theory, real-life examples, and answers to some of the most burning questions regarding the process of automating your campaigns and using marketing automation platforms.
Think of it as your marketing automation FAQ.
Table Of Contents
Free Guide: Building a Business Case for Marketing Automation
What is marketing automation?
Marketing automation is software that helps you automate recurring (and often mundane) marketing and customer engagement activities.
Here are some examples of processes marketing automation could help you with:
Automatically welcoming new contacts with a series of onboarding emails
Automatically nurturing and qualifying your marketing leads
Automatically reengaging contacts who stop opening your messages
Automatically following up with people who attended your live webinar
Automatically following up with people who visited your store but didn't complete their order
As you can see from the above examples, marketing automation tools can benefit your business in many ways, regardless of whether you're a B2B, ecommerce, or non-profit. They do the heavy lifting for sales and marketing teams in companies of all sizes and shapes.
For a comprehensive take on marketing automation for B2B companies specifically, make sure to read this guide
What are the benefits of marketing automation?
Even though marketing automation tools have become much more affordable and automated communication tops in terms of engagement rate, it's worth knowing why marketing automation tools are worth the cost.
The chart below shows the top benefits of marketing automation as ranked by marketers who took part in the Email Marketing and Marketing Automation Excellence 2018 study.
Based on the study results, we can see that the top three advantages are that marketing automation helps you 1) save time, 2) generate more leads, and 3) increase your revenue.
But how does marketing automation help you achieve these goals exactly?
Let's look at these four scenarios and challenges marketing automation helps you overcome.
1. Marketing automation helps you serve your audience better
Let's say you work for a higher education institution.
Your school offers a variety of different courses, all designed for a different kind of audience.
To be sure that everyone signs up for the course that suits their needs best, it'd be worth first talking to your prospects in person and providing them with all the necessary information.
Unfortunately, at some point, your scale won't allow for that.
The absence of this service, however, increases the chances of students signing up for the wrong courses, getting lower grades, and eventually dropping out.
One way to overcome this hurdle is to run automated campaigns that deliver the right kind of content (e.g. via email, SMS, or web push notifications) to the individual prospects based on various cues, e.g. the pages they've visited, files they've downloaded, or courses they've signed up for.
See, with marketing automation, no matter how big your audience is, you're able to keep a personal approach throughout the entire customer lifecycle.
More relevant communication leads to more engaged customers. That, in turn, usually leads to higher returns.
Read more: Email marketing strategies for Higher Education Institutions
2. Marketing automation platforms help you save time and money
Now let's imagine you're a real estate agent.
People come to you to buy or sell their property. Every meeting starts the same way: you ask them a bunch of questions so that you can tailor your offer to their needs.
It takes time.
And it doesn't end there, as after the meeting you'll probably want to follow up to make sure you've answered all their needs and will close the deal.
All of this, like many other tasks we do in business, could be carried out (often more swiftly and accurately) with the use of a marketing automation tool.
The more activities you delegate to your software, the more time you'll have for the kind of projects that require personal attention and ones that could potentially have a higher impact on your business.
Read more: Guide to email marketing for real estate agents
3. Automations improve your ability to scale your business
Picture this: You're running a boutique marketing agency catering to local businesses.
If you're relatively new to the business, the odds are that you do most of your marketing tasks by hand.
You're providing top-quality services for your clients, but every time you sign a new client your workday becomes longer.
If you'd like to scale your business, there are only two ways out:
either hire someone and delegate some of the tasks to them,
or start charging your clients extra.
Neither of these solutions is perfect.
The situation can change, however, if you transfer more tasks to your marketing automation platform.
These could be seemingly simple but lengthy processes such as nurturing your prospects who've shown interest in your work.
Or there could be more complex activities, like setting up marketing funnels using landing pages, Facebook ads, and email campaigns for your clients.
When you use marketing automation, every new client you sign won't add as much to your workload, because a lot of the processes are carried out automatically.
This leaves you the time to acquire more customers, develop your business further and at a higher pace.
4. Marketing automation helps you focus on the right audience
Let's now imagine you're a B2B company that sells high-end IT services.
You probably use a variety of different lead generation tactics to attract prospects to whom you could sell your services.
Unfortunately, not all leads are made equal and your sales team is spending a lot of time on the wrong kind of leads – people who were interested in your content but not your services.
A marketing automation solution could help you pre-qualify your leads before they end up going to your sales team.
This way, your sales team could focus only on the most-promising audience (people with a high likelihood of buying your services) and all the leads that didn't qualify would receive your nurturing sequences until they're ready to convert.
These are just four reasons why marketing automation is worth your consideration. If you'd like to learn more about this, this post by Michael Brenner explores more ways small businesses can benefit from using marketing automation.
Looking for inspiration?
Check out how Alex Terrier, saxophonist, composer, and charismatic bandleader uses marketing automation to stay in touch with fans and students while touring the globe.
How does marketing automation work?
While marketing automation software can be very robust, most of these tools follow a simple logic – If X happens, then do Y.
For example:
If someone fills out a form to access an ebook on one of my landing pages (X), then the system should send them a welcome email with the access link (Y).
This is a very simplistic example, but it's good to start with one of those before we double-down on more complex scenarios.
Marketing automation workflows
To set up automation like the one I've just described, you need to create what we call a marketing automation workflow.
In simple terms, a marketing automation workflow is a script that describes what the marketing automation platform should do if a particular event or situation takes place.
To build these kinds of scripts, most marketing automation tools let you use visual drag and drop creators or builders.
Within these scripts, you'll have three types of blocks: conditions, filters, and actions. Let's explore them in detail.
Conditions – They refer to the "If X happens" part of the marketing automation logic. A condition specifies the event you want to track within your workflow before an action can be performed.
Examples:
If contact subscribes
If a customer abandoned a shopping cart
If the date is 14 days before your contact's birthday
Filters – With filters you can narrow down (think of it as segmentation) your audience before an action is performed. They're usually used after the condition element and before the action element.
Examples:
First 100 subscribers
Only contacts who have a particular attribute
Only contacts who are also on our other list
Action – With actions you specify what you want to happen after a condition has been met. An action could be about sending a message (email, SMS, web push, etc.), waiting for a specific amount of time, and even tagging or scoring your contacts.
Examples:
Send an email
Move to another workflow
Assign a tag
Note: Your choice of conditions, actions, and filters will vary depending on the tool you use. Above are the blocks you can currently choose inside of GetResponse.
Here's an example that'll help you get a better sense of what a marketing automation workflow looks like:
Let's now have a look at this example of a simple marketing automation workflow that we built using the GetResponse workflow creator.
What you see in this picture are two elements that comprise the whole workflow. The workflow is triggered by the event specified in the top element. As soon as that event takes place, the system should proceed with the action specified in the bottom element.
Here the workflow translates to:
When someone subscribes to an email list called your_new_list using any web form, then send them a message called Welcome to GetResponse.
Building marketing automation workflows
Most marketing automation platforms, including GetResponse, let you build automation workflows in two ways:
You can either use ready-made automation templates or build your workflows from scratch.
In the first scenario, you pick a template that serves the goal or matches your campaign idea. Then, you just need to populate it with your own data, including message templates, lists, etc.
These can get you started pretty quickly. Plus, they can serve as an inspiration, especially if you're only starting to build your first automations.
Here are some examples of marketing automation templates you'll find in GetResponse:
The second approach is more appropriate for those who already feel confident using their marketing automation software of choice.
You may also prefer to build your automations from scratch, if you know exactly what you want to achieve with your workflow or prefer to start with an empty canvas.
To help you understand this process better, this video here shows you how you would build a workflow using the automation templates in GetResponse:
When building marketing automation workflows, you might come to a point when you don't know what to do next.
You might ask yourself questions like, "Should I continue and send another message to my leads?" or perhaps, "Should I take a step back and test a new approach?"
If you ever find yourself in this situation, check out this article by Andrew Davies, in which he provides some very useful tips on how you can best proceed.
What are the common features of marketing automation?
Marketing automation platforms offer a variety of different features.
Here are some of the most common ones:
Email marketing
SMS marketing
Web push notifications
Forms and landing pages
Lead nurturing
Lead generation
Campaign management
CRM integration
Social media marketing
Lead scoring and tagging
Ecommerce
Visitor tracking
Analytics and optimization
While these are most common, some marketing automation platforms specialize only in certain marketing processes.
Because of that, some marketing automation software may offer robust capabilities in certain aspects of digital marketing, while only scratching the surface in others.
Keep this in mind, if you're going to be reviewing different platforms and looking for the best marketing automation software for your business.
In most cases, you'd best start by mapping out your marketing automation strategy, specifying what tools, customer data, and marketing channels you'd like to use.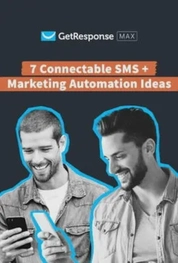 7 Connectable SMS Marketing Automation Ideas
Want to make more impact with your SMS campaigns? Take a look at these 7 SMS marketing automation campaign ideas and learn how to set them up all by yourself.
Download guide
Marketing automation examples
Marketing automation can be used across the entire customer lifecycle, using various marketing channels.
While every company should have its own marketing automation strategy, here are three automated campaign examples often developed by marketing teams. You'll find 30+ other use-cases, in our guide to email automation.
Cart abandonment emails
According to Baymard Institute, the average shopping cart abandonment is currently at 69.57%.
Being able to win back even a fraction of these transactions could mean a big increase in the total revenue an online store makes.
This is one of the ways ecommerce businesses use marketing automation.
They track their website visitor behavior and automatically send out emails to those who haven't completed their purchase.
The same strategy could be applied multiple times, even using other marketing channels, including retargeting paid ads or SMS messages.
Below is an example of an automation workflow that'd help you achieve those results:
And here's an automated cart abandonment email sent by one ecommerce brand:
Welcome email series
Welcome emails are probably the single most important type of automated email communication you should be sending.
They get an average open rate of over 80% and a click-through rate of over 25%, which is around 4x the engagement rate you'd observe with a typical newsletter.
They are so effective because recipients have already gotten used to receiving these kinds of campaigns. They serve as a confirmation of the subscription process going well and often deliver some additional content the users requested.
Just as they're effective, welcome emails are very easy to set up, too. That's why you see so many ecommerce businesses sending them to their new subscribers.
This is a workflow example that'd send a welcome email series over the course of several days:
And here's an example of one such automated email:
Email course
Another popular way of using marketing automation is to develop email courses, using a series of emails often called autoresponders.
An email course typically consists of a series of prearranged sets of emails. On top of that, more complex scenarios include email reminders sent out to those who don't interact with the content.
Thanks to marketing automation, you can deliver the course lessons to your audience, using their subscription date as the starting point.
This is very popular among online entrepreneurs, marketers, and people interested in earning passive income.
What about the effectiveness? Using the click-through rate data from our Email Marketing Benchmarks report, it's easy to calculate the engagement rates and the number of conversions you could generate with an email drip campaign.
Here's what the workflow for a typical email course would look like:
And here's an example of an email lesson:
You can find more automated examples in this article.
Let marketing automation software amplify your business
I hope I've managed to show you that marketing automation can generate high returns even if you don't have a large team or budget.
Think about how much time you could save by automating repetitive tasks, like welcoming new subscribers, nurturing prospects, or retargeting those who abandon their shopping carts.
Even if you haven't developed a robust omnichannel marketing strategy in place yet, you could begin automating your marketing campaigns.
And if you're a larger organization, your marketing and sales teams would also benefit from an extra pair of hands that works for you 24/7 non-stop.
As a matter of fact, the sooner you start building marketing automation workflows, the better.
If you're about to adopt this approach, it's worth reviewing some of the marketing automation best practices and learning what challenges people are facing and how they can be overcome.
If you feel like getting started, here are two actions for you to consider:
First, sign up for our free email course on Mastering Marketing Automation.
Over the course of 8 lessons, you'll learn how to effectively implement automated email campaigns.
Secondly, sign up for a free account and take GetResponse Marketing Automation for a test drive. Without any risks, you can use test the entire platform for 30 days.
Ready to build your first automated campaign?