If you are a real estate agent, it would be silly not to take advantage of one of the most powerful marketing channels out there: email marketing.
Email is a foolproof way to reach out and touch your audience with information that they want, need, or care about.
In this blog post, we'll cover how to create a successful email marketing campaign from scratch. Some of these real estate email marketing techniques are currently used by the top 5% of realtors for amazing results.
Have your real estate emails been failing to deliver results? It's time to get back to the basics.
Table Of Contents
What is real estate email marketing?
There are many smart marketing strategies you can employ for your real estate business – from social media advertising, direct mail, word of mouth marketing, local outreaches to writing a book. The Covid-19 pandemic forced many real estate agents to embrace innovative marketing strategies in an industry dominated by traditional marketing methods like postcards.
However, most marketing techniques can't hold a candle to email marketing when executed well. Email marketing generates a 4200% ROI, that is, $42 on every $1 spent.
Not surprisingly, in a survey by TheClose, more than 66% of realtors said they wanted to improve their email campaigns and customer relationship management (CRM) process in 2021.
Realtors still prefer social media marketing over email due to the Covid-19 pandemic, but email marketing is less time-consuming than social media. Well-composed, personalized real estate drip campaigns would work like clockwork to nurture new leads into clients.
More and more realtors are trying out innovative methods to market real estate listings on social media, using hyper-local videos, and targeted ads. But, realtors who combine these with advanced real estate email marketing techniques like list segmentation will kill two birds with one stone.
Essentially, real estate email marketing is a way to keep up lines of communication with leads and former clients in order to create the kind of engagement that eventually leads to sales. If you want to learn how to do email marketing for realtors the right way in 2023, building your brand authority, creating awesome value, and attracting more business, read this post to the end.
First, a few email marketing jargons:
Open rate: How many people opened your email? For higher open rates, you'll need better email subject lines, strong brand recognition, and a good preheader. Plus, you'll want to deliver your emails at the most optimal time. The average email open rate is 22.02%.
Click through rate: What percentage of your total email recipients clicked on a link in your email? A video in your email can improve email click-through rates. Social sharing buttons have also been shown to increase clickthroughs, according to a GetResponse study. The average email click-through rate is 2.13%
Spam rate: The percentage of your email recipients who reported your email as spam. If 30 people reported your emails as spam out of 1000, your spam rate is 0.03.
Conversion rate: The number of people who contacted you as a result of your email campaign. That is, how many people moved from leads into prospects or opportunities.
Email nurture campaign: A nurture campaign is a sequence of emails (usually automated or drip) sent out to leads. Creating trust and urging your leads toward the next phase is the purpose of a nurture sequence.
Click to open rate: This is the best way to measure your email's actual engagement. That is, what percentage of people who opened your email also clicked on a link or CTA (call to action).
Double opt-in: With a double opt-in, subscribers have to click a verification link inside an automated email to become part of your email list.
Bounce rate: This is the percentage of emails in your list (out of the total) that return an error due to invalid addresses, full email inboxes, or blocked servers. Email bounces are inevitable but ideally, your bounce rate should be less than 2%.
Email deliverability: This measures the ability of your emails to reach the receivers' inboxes instead of ending up in the spam folder or other minor inboxes. A high bounce rate would have a negative effect on deliverability. So will spam complaints.
Unsubscribe rate: The number of people who unsubscribed after receiving an email divided by the total number of email recipients. Ideally, your unsubscribe rate should be less than 0.5.
To learn more about measuring the effectiveness of your email marketing campaigns, read this guide to email marketing metrics.
How to do real estate email marketing
1. Identify your area of expertise and your target audience
In the US, there are almost 2 million real estate agents. This means you are probably competing with some big name realtors. Yet your unique experiences would help you stand out. You should define your audience, your unique selling points, and your area of expertise. Doing this will help you create targeted content that solidifies your authority while meeting their needs.
Next, you want to divide your audiences into different sections. For example, an SRE (Senior Real Estate Specialist) would attract:
Seniors (people over 50) looking to buy a new home
Seniors (people over 50) looking to sell
Millennials (people under 40 years of age) seeking to help their parents move.
2. Create a customer journey map
You should look at marketing from the prospect's point of view. What would he or she like to hear from you?
To do this, you have to interview your customers about their journeys. A cool question to ask customers would be: how did you find me (us)? What sort of content led them to you? Apart from this, you can ask other questions to help you understand your ideal buyer, their needs and what sort of content they'll find helpful.
For example, a first-time homebuyer is usually interested in the different types of mortgages and mortgage assistance available. An email sequence to this segment could feature current 30 and 15-year mortgage rates, ARMs, escalator mortgages, and first-time buyer assistance programs.
Here's a good example of a customer journey map for a wealth management company from digital experience consulting firm Rightpoint.
At the first touchpoint, you probably don't want to send listings, you want to give useful information relevant to your prospect's position on the buying journey (unless they specifically subscribed to get listings). Note that you can't do all this with purchased lists.
3. Outline drip sequence ideas for each journey map
The reason your real estate email ideas are not effective is that they are not targeting the right people or you're treating everyone the same way (a.k.a. sending email blasts). Drip campaigns (sometimes called follow-up messages) produce a 119% increase in click-through rates compared to normal campaigns. Combine relevance with automation, and your conversions could skyrocket. A drip campaign is an email sequence scheduled for a particular segment of your customers. These types of emails are important as you will easily burn out when manually sending multiple emails to different segments of your customers.
And Here's how to set up an automated drip email sequence in GetResponse Marketing Automation.
What type of emails do you send to real estate clients?
For your email campaigns, set out an order of importance that starts with current customers, former clients, hot leads, and cold leads. Keeping your existing real estate clients up to date at each step of the home buying or selling process is probably something you should do manually.
For former clients, real estate email templates or sequence examples include:
1. Client Testimonial Request Email(s) – If you do a great job for them, your past clients should be happy to provide testimonials
2. Referral request email(s) – Most people are more likely to trust referrals from their friends and family than marketing campaigns. Your previous clients may have someone in need of your services from time to time.
3. Social media contest invitation email(s) – One of the best ways to generate traction on social media is to run a simple contest. Everyone loves contests. To accomplish this, you might want to consider partnering with a local small business.
4. Local events and happenings newsletters – Provide past customers with information about interesting events, happenings, and news in your area.
5. New listings newsletter(s) – You should let your past clients know about some of your remarkable new listings. Who knows? They might have a friend who wants to upsize their home.
6. Event announcement(s) – Have an upcoming event or presentation? A couple of your past clients might attend.
7. Company new(s) – What news would help increase your brand perception? Share news about new real estate agents joining your team, company expansions, or cool projects you are working on. Make sure to keep the focus on them.
8. Holiday, Anniversary, and Birthday emails – With past clients, you probably should know the most important details, including their wedding anniversary and birthdays. This offers an easy, effective way to personalize your emails and make a good impression during the important dates in their lives.
Check out these holiday email campaigns for inspiration.
What types of emails should you send to your real estate leads?
You want to increase the frequency of emails to warm leads while decreasing email frequency to cold leads. Ideally, you should be removing anyone who hasn't opened your email in 2 months. This ensures you don't have a high spam rate and your email deliverability stays in top fettle.
Emails to real estate leads should include:
1. Welcome email(s). Welcome emails have an open rate of 86% and a click-through rate of 24.69%. In the welcome email, you are making your first impression. You could experiment with an exciting welcome email series to build engagement early on.
2. Educational/nurture email series. New leads are usually not ready to buy yet. A nurture series makes them comfortable enough to engage with you. If your leads are from a home valuation landing page, your nurture series could take sellers through some home pricing horror stories (after you've delivered what they came for).
As Dave Lawrence from Follow Up Boss suggests, to make these emails even more powerful, you'll want to include different kinds of resources, like:
An ebook about buying or selling a home
Latest market advice and tips
Tips for sellers to entice potential buyers
Simple hacks to present an open house
Tips and advice for homeowners like home maintenance, how to save water, keep energy costs low, backyard maintenance, and decorating ideas
3. Social media contest invitation email(s). These kinds of emails can generate traction on social media, engage past clients, and potentially attract new ones, especially when partnering with local businesses.
4. Local events and happening(s) newsletters. They help you keep past customers informed about the community, fostering a sense of connection and positioning the realtor as a knowledgeable local expert.
5. New listings newsletter(s). The people on your list know you are a real estate agent, so they are ready to see what you have to offer.
6. Open house and event announcement(s). Hosting an open house? Keep your email leads informed.
7. New reviews and client testimonials/stories. Some of your leads only need a little convincing to pick up the phone and call you. A couple of great reviews could be the tipping point.
Pro tip: A great way to connect with seller leads is to send a quick video with your market updates to share insider insights on what's happening. (Source: Follow Up Boss)
8. Holiday emails. While sending birthday emails to leads seems creepy, you want to reach out during the holidays – making this period work for you.
You can combine as many creative real estate marketing emails in one campaign. It's much easier, however, to set up drip campaigns with tools like GetResponse, which automate the process.
Should I use a template or write each email from scratch?
The purpose of an email template is to save time. Writing each email from scratch is inefficient. However, you don't want to use real estate email marketing templates every time. For example, clients anticipating updates on a home sale aren't going to care about your email's visual appeal. However, there are lots of email templates online both text-based and visually designed emails that have been proven to work. Check out this swipe file to get some welcome email ideas. 
GetResponse allows you to choose from a variety of best real estate email marketing design templates. You should customize them to fit your brand voice, type of service, and colors. You can also hire experts to help with email design and copywriting.
Why are people not reading or engaging with my real estate emails
Real estate emails perform so-so in terms of click-through rates. For real estate, the average click-through rate is 2.42% while the open rate is 28.37%, unsubscribe rate is 0.16% while spam rate is 0.06%.
The problem of low click throughs is more common than you'd think even among expert email marketers.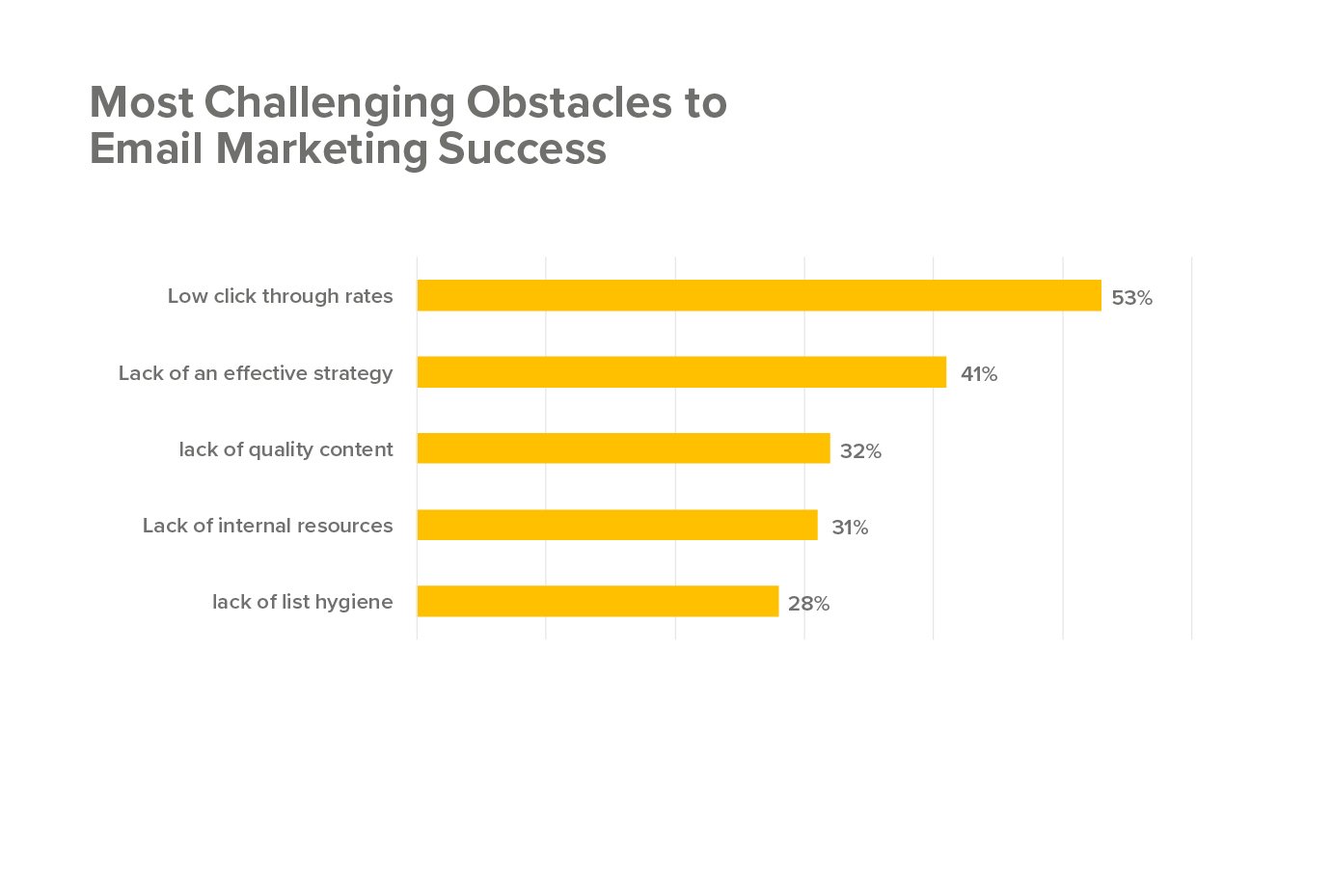 According to Ascend2, 53% of email marketing professionals struggle with low click-through rates.
Why is click-through rate important? Because it is a measure of email engagement. Based on Ascend2's survey, 73 percent of marketers use click-through rates as a way to evaluate the success of their email marketing campaigns. Click-through rate is the most important email marketing metric. So why do most real estate emails have low click-through rates?
1. Your emails are not optimized for mobile.
More than 60% of emails are opened on a mobile device. In fact, emails that are optimized for mobile generate 15% higher click-through rates (compared to emails that are not optimized for mobile).
2. Your email contains too many CTAs positioned wrongly
The paradox of choice states that when people are presented with many options, they choose none. It's very common to see real estate emails and real estate landing pages with lots of listings, each bearing its own CTA. Though this seems like a good idea, it really isn't. It creates an overwhelm of options. One CTA placed in the center or the upper left would work better.
3. You are not using an email preheader.
The email preheader is the summary text that follows your subject line. On mobile, a pre-header can help improve your open and click-through rates. Having a preheader to accompany your email's subject line could increase your open rate by up to 3% and your click-through rate by at least 1%.
4. Your subject lines are boring.
Your subject line determines whether or not someone opens up your email. It also subtly determines the amount of attention they pay to your email content. A subtle way to improve your open and click-through rates is by personalizing your subject lines. Studies show that marketers who use personalization to make their emails more relevant increase click-through rates by as much as 139%.
5. You are not using high-quality, relevant images.
Marketing emails with at least one image have almost 6% higher open rates than text-based marketing emails.
4. Choose templates that align with your brand
With marketing emails, design and images that are not overwhelming can have a significant effect on your click-through rate. In addition, you want your brand to be recognizable across a wide number of touchpoints.
Color has been proven to affect purchasing intent. There is an important field of marketing that studies this: color psychology. According to a study titled "Impact of color on marketing," up to 90% of snap judgments about products are based solely on color. As odd as it seems, beige yellow on your landing page design but no yellow in your email design could create inconsistency that affects prospects' decisions.
Based on this email design best practices article, here are some ways to create a better visual design in your real estate emails:
1. Using complementary colors, create an interesting color scheme. You can use a free tool called Coolers to define your color scheme. You can also use Canva's color palette generator.
2. Choose font pairings that work well together – one as headline and the other as body content. See 36 perfect font pairings.
3. Create email marketing templates that are simple but aesthetically pleasing. (If you use header images) place only one attractive image per email.
4. See email design inspirations on sites like Reallygoodemails, EmailLove, Dribble, and GetResponse.
GetResponse's email customizer allows you to create email templates that are in sync with your brand. Here's how to create a custom email template.
5. Connect your CRM
It is important that you can easily sync contacts between your real estate email marketing software and your CRM.
If you're using GetResponse, you'll be happy to know that they have ready-made integrations with top CRMs like Zoho, SugarCRM, Zendesk, or Helpscout customer service tool.
What if you want to integrate another tool, e.g. Hubspot, that doesn't have a direct in-app integration? In cases like this, you need to use third-party integration software, like Zapier or Piesync.
Then, just follow the steps:
Create a Zapier account.
Go to integrations in Zapier.
Connect GetResponse and Hubspot. Choose one of the apps as a trigger (e.g GetResponse is the trigger when you're sending a lead or prospect from a GetResponse list to a Hubspot list).
Choose the Actions you want in Hubspot.
Copy and paste an API key from GetResponse to connect both apps.
How to run an email campaign to Facebook leads
The success of your email marketing efforts lies in your ability to keep updating your list with new leads. Facebook advertising presents a chance to do that. In GetResponse, you can connect your Facebook page or account directly. This integration allows you to update your list with Facebook leads directly or send out newsletters straight to your timeline. You can also run Facebook ads directly from GetResponse. The video below shows you how to do it:
6. Segment by customer journey or customer archetypes
First-time buyers should not receive emails about home staging tips. You should segment your list based on your already researched data and/or based on where they are in the buying cycle. You might also segment based on location, action, or demographics. The point is that people want relevant, targeted information. When your information isn't, they leave. Segmentation might be the single biggest reason why people get poor results with email marketing campaigns. Hubspot reports that in 2020, marketers who used segmented campaigns noted as much as a 760% increase in revenue. Here's how to segment your real estate list.
The best time to send emails to potential customers
GetResponse found that the best day to send an email to get the highest click-through rate is on Monday and Tuesday (the worst day to send an email is Sunday). The same study shows that email click-through rates are highest at 6 am and 3 am – with a peak click-through rate range between 7 am and 11 am.
How often should I send emails?
You don't want high unsubscribe rates, hence your emails need to constantly provide good value. This is hard to do when you keep sending emails daily. Research shows that marketers who send out one campaign per week get the highest average open and click-through rate. 49% of GetResponse's customers use this approach.
7. Start building a targeted list
Why build a list when you can just buy a list? Because in many cases, your leads wouldn't be exclusive to you. You'll be dealing with a lot of unqualified leads (and probably some bad data that could affect future email deliverability) plus competition from other real estate agents. Experts recommend building an email list because when you do it's a piece of marketing real estate you own.
Creative ways to build a targeted list include:
Add a link to your landing page in your email signature
Pass around a form to attendees at your open house and collect email addresses
Run custom Facebook ads using the look-alike audience feature in Facebook (that allows you to upload a list of existing subscribers) as a way to drive traffic to your landing page.
Create a pop-up form on your website that displays before they leave.
Create a Facebook page announcement to drive sign-ups.
For each of these to work, you need to offer significant value or else crickets.
Follow this guide to learn how to build an email list from scratch.
Should you buy an email marketing list?
There are a slew of list providers for real estate online and while they are not all bad, sending emails to a random list seems like a gamble. It might work or not work. In the majority of cases, you might have a lot of bounces or unsubscribes, which puts you at the risk of getting your email domain blacklisted. Buying a list for cold calls or direct mails would probably work better than buying a list for email marketing. However, if you have a good nurture sequence, money to spend, and room for some trial and error, go ahead and put buying a real estate email marketing list to the test.
How GDPR affects real estate email marketers
Again buying email lists could be illegal considering the EU General Data Protection Regulation (GDPR) that came into effect in May 2018. While GDPR affects all aspects of marketing, it has a major impact on landing page retargeting through cookies and email marketing campaigns. However, getting consent should be normal practice if you want the best results from your marketing campaigns.
With the new GDPR rules, email marketers have to comply with rules which include using a double opt-in. Currently, only 5.51% of real estate emails use double opt-in compared to 94.49% using single opt-in.
Bring your automated real estate email campaign to life
Coronavirus has caused real estate processes to lean towards the digital world. Even though the average real estate agent has a median age of 55 years old, most have adopted new technologies like drones, virtual staging, and podcasting.
Many realtors have adopted real estate content marketing. There are now dozens of real estate clubs on podcasting service, Clubhouse, with sizable membership.
Yet real estate email marketing boasts the highest ROI of all marketing efforts.
If you've not started nurturing leads through an automated real estate email campaign, get started with GetResponse.