With an average return on investment of $38 for every $1 invested, it's no surprise that 82% of marketers leverage email marketing to win the hearts of their potential customers.
You can run an online store, a boutique marketing agency, or be a wedding photographer. No matter what your small business is about, email is a powerful digital marketing tool that will help you attract and convert new customers and retain your current ones.
Read on to discover how to use this channel to drive explosive growth for your small business in 2023.
Table Of Contents
Why are email marketing campaigns effective for small businesses?
There are many reasons why email is such an effective tool for small businesses. It can help you create more awareness for your brand, expand your customer base, build customer trust and loyalty, showcase your industry expertise, and, ultimately, grow your revenue.
Let's take a look at the different benefits of email marketing for your small business:
Get impressive ROI
Email marketing offers a reliable and cost-effective means of communication between brands and customers. Imagine a $38 return on every $1 spent on email marketing campaigns across the board. Yes, the average ROI proves that it's worth your email marketing efforts.
Improve customer retention
Email marketing allows you to build strong customer relationships through consistent engagement. This form of direct communication helps you reach customers where they go every day: their inbox, which is something that would be impossible to do using any other marketing channel.
Establish authority
Your goal as a small business owner is to become the expert in your niche that customers go to for solutions to their problems. Email marketing will help you establish yourself as an authority by sending high-quality, informative content that your subscribers find useful.
Boost conversions and sales
Email helps businesses generate billions in retail sales every year. It presents a great opportunity for small businesses to benefit from impulse buying. For instance, you can use it to entice loyal customers to make a purchase by sending special/discount offers for products related to their previous purchase.
Grow your brand
With a great email marketing strategy, you will be able to grow your brand. You'll have a direct line to your audience's inboxes, and all you need to do is send emails that are relevant and well-curated, so your business can stand apart as a clearly identifiable brand. This will give you a significant edge over your competition.
Discover your customers' needs
Email marketing helps you learn more about what your customers like or dislike so you can stay on top of their needs. You can segment your existing customers according to their preferences and send targeted and personalized content that resonates with the different segments.
Learn what works
This form of marketing offers you a way to find out what works and what doesn't by testing and tracking the different metrics, such as email open rates, click-through rates, and so on.
Naturally, to take advantage of these impressive benefits, you need to know how to do email marketing right. We'll dig deeper into these a bit later, but do save the guides we've linked above for later.
Step-by-step email marketing for small business strategy
You need to plan your small business email marketing strategy prior to starting an email campaign. To do this effectively, there are several steps you must follow:
Step 1. Choose the best email marketing platform
With a fully-equipped email marketing tool, you can run a scalable and result-oriented email marketing program. Exploring the software market, comparing available platforms, and selecting the best email marketing services provider should be your first step.
Several email marketing platforms are super popular among small businesses. To make the right choice, you must know what features and capabilities should cover your needs.
Here's a checklist that you can take away:
Segmentation — even if you are at the beginning of turning strangers into your new subscribers, you will need to categorize them and adjust your email campaigns according to the behavior of your potential and past customers.
Email creator — folks who run small businesses are often expected to be swiss-army knives. But you don't have to be a designer or front-end developer to create stunning emails that will win your audience's hearts and help you grow your customer base. A professional email marketing solution comes with a drag-and-drop editor. GetResponse, for instance, also has powerful AI email generation tools and a bank of prebuilt email templates, which makes it even easier:
Newsletters — all small businesses serious about digital marketing have newsletters on their to-do list. An email marketing tool of your choice should have a user-friendly newsletter creator that will include subject lines (ideally, with an option to A/B test them), adding recipients from lists and segments, email content, and scheduling options:
Transactional emails — if running an ecommerce business is your cup of tea, you should look for an email marketing service that will integrate with your online shop through an API or a plugin integration. This way, every time a customer purchases from you, the system will automatically trigger sending a confirmation message.
Popups and forms — you also don't have to be an engineer to create those to start collecting more subscribers or capturing abandoned cards. That should be something to expect from your email service provider. Here's what it looks like in GetResponse:
Marketing automation — sending email campaigns manually can be a good option to start. But as you grow, you will need to scale your results and leverage automated emails based on created workflows. They can be simple. And they can be more advanced. Check out our guide to email automation for more details.
Small businesses have a lot on their plates, including choosing email marketing tools. To help you make the right choice, we've compared the 10 best email marketing services.
Step 2. Set your email marketing goals
Every business will have different objectives when it comes to launching email marketing campaigns. There are a lot of factors that might affect and influence your goals, such as:
Your budget
The size of your own business
Your email marketing experience
The industry you are in
The way your marketing channels are prioritized
…and so on.
Your goals can either be general, such as building brand awareness, or they can be more quantifiable and number-based, such as converting your website visitors into new subscribers, customer acquisition, or monthly sales results in your ecommerce store.
This is the time for you and the drawing board. Put down what you want to achieve with your email campaigns, and select the goals with the highest priority. Next, assign those objectives to specific campaigns.
It's also essential to figure out how you will measure success. There are fundamental metrics, such as open or click-through rates, but you need to go deeper to know whether you've achieved incremental gains. Or not.
Here are some metrics you should pay attention to:
Conversion rate
Email signup rate
Churn rate
List growth rate
Subscriber retention rate
The average revenue per email sent
Revenue per open email
Revenue per subscriber
Email campaign profitability
How to figure out each of the above? Use this detailed breakdown of email KPIs.
Plan and send your first email marketing campaign
This short action plan will help you prepare and make an impact on your target audience and your business.
Download guide
Step 3. Define your audience
Your next step is to create a buyer persona and hone in on the specific characteristics of the people you want to reach.
As with every other marketing channel, don't try to go after everyone.
You need to get to know your ideal audience so you can target your email marketing campaigns at the people who are most likely to purchase your products and services and support your business.
There are several ways you can approach that, either on your own or with the help of a market research company or a freelancer:
Online interviews — talk to potential or existing customers during video calls. Ask them about their challenges, needs, and preferences. Record those interviews and look for patterns later on.
Online surveys — create a list of close-ended questions and run a survey. You can do that organically by sharing that on social media and networking or with paid platforms like Survicate. The latter option requires investment, but you will get the results faster.
Market intelligence tools — if you have an additional budget, you can use market and audience research software, such as SparkToro or Audiense, to get insights into your target audience's interests and buying habits.
To learn more about your audience, read our guide to email surveys.
Step 4. Start building your list
Prior to sending out emails, you must collect contacts to send the emails to. Now that you have your goals in order, and you've defined your target audience, you can start collecting emails.
Here are the first steps to follow when you start building your email list:
Place email signup forms on your website
Add a signup form to social media pages
Include a call to action in your email signatures
…and anywhere else that you can ask people to subscribe.
The work you did in the previous two steps will pay off tremendously in helping you collect emails from targeted subscribers.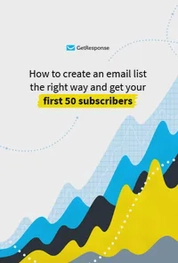 How to grow your email list
Want to build a high-quality email list? Start with the foundations and learn how to create an email list the right way and get your first 50 subscribers in no time.
Download guide
Make sure you include compelling text explaining to users what they will get in exchange for signing up. Offer valuable incentives and make the signup process as easy as possible.
But, most importantly, make sure your newsletter matches your target audience's needs and preferences. Whether you try to make people opt in organically or with paid channels, highlight your promise in the messaging. And next, deliver on that promise with high-quality content.
Grab some ideas for compelling newsletters in this article.
Step 5. Decide which emails to send
Now that you're actively growing your list of contacts, you can start planning the types of emails to send to your subscribers.
The emails you choose will depend on the type of small business you're running and your business needs. Most small business owners start with a short welcome email series and then send a newsletter once or twice a month to maintain consistent engagement with their audience.
You can also choose to add an occasional promotional email, product update emails, abandoned browse emails, etc.
If you're operating in the B2B environment, you can also nurture your leads and retain your subscribers with additional content, such as:
webinars
how-to videos
free calculators and frameworks
guides and playbooks
What additionally can work in your favor, whether you're in B2B or B2C, are:
Need more inspiration? Here are 30+ best email marketing campaigns we've seen.
Step 6. Design and craft your emails
Many marketers argue about whether or not email design is important, and if it's worth spending money and time to ensure that your message looks amazing.
While some argue that the goal and content of a message are more important and that a simple email is better, others swear by emails that contain lots of rich media.
Whatever you choose, put some thought into ensuring that your emails not only reflect your brand but also resonate with your target audience.
Once you have that covered, you can experiment with specific elements of your email to see if any of them drives more opens and engagement:
Subject lines
Preheaders
Email headers
Videos and graphics
Copywriting
CTA buttons
Email design isn't your thing? Then be sure to check out GetResponse's free email templates and new AI email tools they're about to launch.
Step 7. Track the results
After you start sending your email campaigns, you have to track the results, analyze the data, and tweak your strategy to improve results in your future campaigns.
Analyzing email marketing data is crucial to achieving success. It's the only way to know what works and what doesn't so you can stop wasting time on tactics that don't bring results, and rather focus your efforts where they will generate the best ROI of your email campaign.
You can track:
How many people opened your emails?
Who opened which email?
What did they click on?
Who opted out of your emails?
What's the average revenue per email?
What's the campaign profitability?
… and so on.
This data is readily available from your email marketing platform, and it can help you take advantage of many email marketing opportunities in your industry. Just make sure that you keep track of the right email metrics and act upon them.
After knowing what worked and what not, you can start planning and implementing your next campaign. And the best way to optimize the results, is to run A/B testing and to play full out with a subject line of email content that resonated with your audience more.
Small business email marketing strategies to supercharge your growth
Listed below are 8 tactics that your business can use to engage your current following and grow even further.
Keep these practices in mind while executing your email marketing strategy:
1. Get the frequency right
Email frequency matters – a lot. Keep your marketing emails frequent to ensure that your customers and subscribers don't forget about your business. Whichever type of email you're sending, use it as a sort of "gentle reminder" so that when your subscribers need a solution that your business offers, your name is the first one that comes to mind.
It's important to have an email frequency that helps you remain a presence in the lives of your customers, but don't overdo it to the point that your emails become annoying to them.
2. Craft compelling subject lines
You need to be able to grab the attention of your readers from the very start. With a catchy subject line, you will be able to communicate a compelling proposition.
For instance:
Is your message urgent?
Do you have a giveaway? A teaser?
Are there discounts in-store?
You can use your email subject line to capture their attention and make them want to click through and find out more.
3. Be brief
Brevity is vital when creating emails for your marketing campaigns. You know your customers are busy. This goes for even your biggest fans who are genuinely interested in what your business has to say and offer.
Long emails have been shown to lead to lower open rates, so keep your email messages short and sweet so you don't lose subscribers.
Focus only on the main points and make those stand out in the email by using bullet points, subheadings, and keywords to make them immediately catch the attention of your readers.
4. Make text scannable
When writing promotional emails, you should always make sure that your text is easy to read. It should also be scannable since most people love to skim over the content.
Make sure your emails are designed and structured in a way that allows even those readers who scan emails to catch the key points in your message.
Use small paragraphs, small sentences, and good formatting practices, such as bolding or italicizing important text, using bullet points, etc.
5. Personalize your email messages
You need to segment your audience so that you can send customized messages that are relevant to each segment of your audience.
Make the emails feel personal and you'll get higher open and engagement rates.
For instance, you can include the customer's name as well as other relevant pieces of information about them to help you grab their attention.
6. Use image alt tags
By default, some email clients don't show images. This is why it's important to use image alt tags whenever you can.
You can think of this as a sort of "backup text" that offers readers some context as to the contents of your images.
This is also important for providing descriptions of the images in your emails to visually impaired subscribers who use screen readers.
7. Mobile-optimize your emails
The majority of people read their emails on mobile devices, so it's important to make sure all your emails are mobile-friendly.
You must test your emails on major mobile devices. Most email software services have mobile emulators that allow you to see how the email will look on various devices so there's no excuse to send a poorly optimized email.
For example, in GetResponse Email Creator you can do a live preview of your message to compare what it will look like on a desktop and a mobile device. On top of that, you can also preview your emails in all of the most popular email clients.
8. Include social media profiles
Use your email campaigns to double down on subscriber engagement by including your social media profiles with a call to action asking readers to follow you on various other platforms.
Professional email marketing software will give you the option to easily promote your social profiles from directly within your emails.
9. Always stay compliant
When sending emails for your business's marketing campaign, it's important to stay compliant with the CAN-SPAM Act (Controlling the Assault of Non-Solicited Pornography and Marketing Act), CCPA, GDPR, and other regulations that may apply in your industry or location.
This act imposes several detailed requirements on businesses and individuals that send commercial emails to customers and subscribers.
Here is a brief overview of the CAN-SPAM Act regulations:
No false or misleading header information
No deceptive subject lines
Inclusion of an opt-out mechanism
Inclusion of the sender's valid physical postal address
Identification of the message as an advertisement or solicitation
Honor opt-out requests promptly.
Monitor what others are doing on behalf of your business
Failure to comply with these regulations can result in a fine of up to $16,000 for each violation, as well as major reputational and public relations consequences. You can find out more information on the FTC website.
Don't forget to grow
As a small business owner, it's important to focus on growing your email list consistently if you want to experience massive success with this marketing method.
You have plenty of resources at your disposal to help you in this regard.
Here are six ways you can continue to grow your email list:
Encourage signups everywhere you can
Give your audience as many chances as you can to subscribe to your business's emails. This includes adding your signup forms to your homepage, landing pages, blog pages, contact page, sidebar, footer, emails, social media, etc.
Embed signup forms rather than links
Using a link may likely reduce your signup rate. It's better to embed a signup form directly in different areas on your site.
Segment your email list
As you start collecting email contacts, you will find that some subscribers are more engaged than others. Segment your list so you can start focusing on cultivating brand loyalty and increasing sales from your fans and followers.
Create autoresponders
Marketing automation will free up a lot of your time, so you can concentrate on other aspects of your email marketing where you can add immense value, such as analyzing your data, producing great email designs, customized and up-to-date content, and so on.
Leverage social media
Include social sharing buttons in all your emails. This will help encourage your readers to promote your content across their social networks, giving your business even more exposure.
Broadcast on other platforms
I've personally had a lot of success growing my email list by having a YouTube channel. Not only does my YouTube channel increase revenue for my business through YouTube ads, but it also allows me to grow my list and earn more revenue through drip campaigns that I've put in place.
💡 Read more on advanced email marketing techniques you'll want to look into in 2023.
Summary
Don't miss out on all the wonderful benefits of successful email marketing for small businesses. Get started right now by implementing these best practices and refining your email marketing strategy so you can increase customer engagement, boost sales, and grow your business.
Which of the tips and tactics listed in this article appeals to you the most? Let us know in the comments section below!