FREE EBOOK
20 experts on running
your business online
in 2021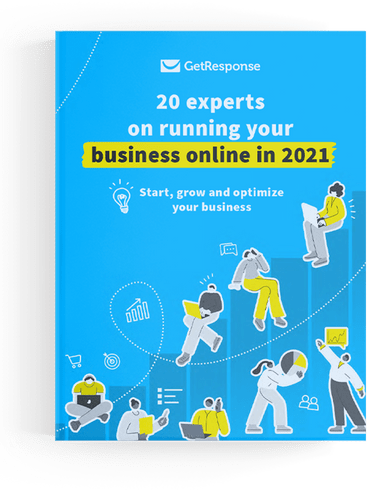 Are you looking for ways to start, grow, and optimize
your business online in 2021?
GetResponse gathered together 20 industry-leading experts, digital consultants, entrepreneurs, and online marketers from all over the world to share their top practical strategies on starting and running an online business in 2021. Each of the experts answered five questions to help you understand the current business landscape, its challenges and opportunities, along with predictions for the future.
What's inside:
This ebook provides insights on how changes to the business landscape in 2020 can impact online businesses in 2021.
Each of the 20 experts shared their tips and proven strategies for starting, running, and growing an online business in 2021.
You will learn:
Main challenges and opportunities for online businesses in 2021
Expert insights and tips for remote work
Practical strategies for moving your business online
Major steps for optimizing your costs
Action plans for starting your online business
Go ahead and download your exclusive copy of the 20 experts on running your business online in 2021 ebook!