If you knew there was a marketing strategy that has a 98% opening rate on your messaging, would you try it out?
Of course, you would — because a 98% open rate means almost all your potential customers are paying attention to your marketing.
In fact, it would be "marketing malpractice" not to at least try SMS marketing for your business.
And the good news here is that you don't have to be intimidated by this marketing strategy. It's possible to learn the ropes in one sitting.
First, here's what SMS marketing is, so you never have to wonder again.
Table Of Contents
What is SMS marketing?
SMS marketing is what happens when you take your advertising efforts directly to the text message inboxes of your potential customers.
This can include a few different strategies:
Promotional text blasts: This is when you send out a broad, single message to an entire contact list. Think of it as similar to a traditional mass media advertisement, but to a more select, targeted audience.
Ongoing SMS marketing messages: You can send out regular promotions, discounts, and marketing messages to an existing SMS marketing contact list. This helps you develop a long-term relationship with each customer as a brand.
Why is SMS marketing important for business?
Put most simply? Because SMS marketing is really, really good at getting people to engage.
Just look at the stats:
After they opt in, 75% of people are okay with receiving promotional messages from brands and companies.
Within three minutes, 90% of the SMS messages you send out will be read. They have a 98% open rate, too. 98%! For reference, emails get an average open rate of 22.02% according to the Email Marketing Benchmarks study.

And while you could argue that ignoring a text message is more difficult and most people just want to get rid of the phone notification off their screen, it's still a remarkable score.
If you send out an SMS with a coupon or discount on your products/services, customers will redeem them at about ten times the rates of other coupons.
As you can see, people like engaging with businesses via text.
So SMS marketing is important for businesses not only because it's a cheap and affordable way for you to send out mass messages, but also because, sometimes, it's what your customers prefer.
Pro tip: To measure the real impact of your SMS campaigns look at the click-through rates or use SMS-specific discount codes to see how many people redeem them. This will help you get a better understanding of how successful your campaigns are.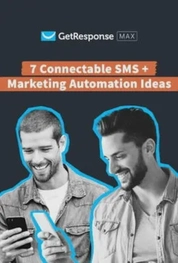 7 Connectable SMS Marketing Automation Ideas
Want to make more impact with your SMS campaigns? Take a look at these 7 SMS marketing automation campaign ideas and learn how to set them up all by yourself.
Download guide
An example of SMS marketing in action
The statistics sound almost too good to be true, right? Possibly.
But it's completely possible to see these statistics happen to your business in real life when you try SMS marketing on your own.
Take, for example, Kopari.
Kopari is a specialty retailer selling beauty products. When they realized in 2017 that they were relying too much on email to generate sales, they thought to try out a text message campaign.
In only four months, 10,000+ shoppers signed up to receive Kopari's SMS and 65% more got on their SMS list every month. After this campaign, the retailer attributed 14% of their sales from their website to SMS.
So if you're not sure where to get started with SMS marketing, here's what you can do to create an SMS marketing campaign that'll get you more revenue:
An 8-step SMS marketing campaign (with examples)
Step 1. Pick the right text messaging software
Given how effective SMS marketing is, you might be wondering why you can't just grab any type of text messaging software and use it.
And you're right, to a degree. Text message open (and even conversion) rates are high across the board.
But that doesn't mean you shouldn't take a few moments to select the right text message software. Here's why:
Cost: Not all SMS marketing services share the same pricing model. It's estimated that nearly 50 million customers will opt-in to receive text messages from companies by the end of this year (2020). But you need to know that not every SMS messaging software is going to let you access those customers for the same per-customer or per-message-sent price.
Ease of use: If it's not easy, you're not going to enjoy using it. So if you find your text messaging software too cumbersome or complicated, you'll likely find it takes more time than it's worth. So do your research well and find an SMS marketing tool that's truly easy to use.

Integration: Most likely, you'll want to send your SMS marketing messages as part of a broader program that also includes other digital channels. When choosing your SMS marketing software, pay attention to whether your tool of choice also lets you mix your marketing efforts with other marketing channels, like email marketing. Ideally, your SMS marketing service will not only let you send text messages but also help you grow your contacts list and help you follow up with your audience, automatically.
Text message templates: Your SMS messaging software should provide text messaging templates. And they should have templates for your industry. This will make it easy to send out mass text messages to your (potential) customers. These templates should also incorporate elements like personalization, allowing you to address each customer by name or company.
Now let's dwell on text message templates a bit more — because they're pretty important.
Why? Well, templates make it super easy to create and send text messages as often as you need to. And you'll need to send texts quite often.
Fun fact: 64% of customers think that companies should text them more often.
The bottom line here is, if you choose the right SMS marketing software — it'll be easy to use and easy to scale. And if the price is right, then you'll be more likely to send out more texts.
Speaking of SMS marketing software, here are some of the tools worth of your consideration:
SMSApi
Twilio
ClickSend SMS
Ez texting
Zipwhip
As of recently, GetResponse also offers an SMS Marketing Automation solution, that lets you send SMS messages and run automated, trigger-based text marketing campaigns at scale.
What makes our solution particularly interesting is that you can schedule your text messages:
Using marketing automation, i.e. as part of your marketing automation workflow, for example, after your recipient failed to open your email marketing message or abandoned their shopping cart
Using time-travel, i.e. at a particular day and time, taking into account your recipient's time zone
Using perfect timing, i.e. using your recipient's previous behavior to pick the most optimal send time
Sending SMS campaigns using marketing automation will not only let you deliver your messages to the right audience at the right time but also will help you keep your campaigns more cost-efficient.
It removes the need to send bulk text messages to the whole of your audience and instead lets you laser focus on those that mean the most for your business.
As an inspiration, consider this marketing automation workflow where we've first sent an email marketing campaign to announce an upcoming event and followed it with a text message targeting only those who failed to convert from our email.
If you use GetResponse, you'll also get access to other tools that'll help you improve your SMS marketing strategy.
For example, you can grow your contacts list using our live chats, website builder, signup forms, Facebook ads, and Google ads.
Plus, if you already have an email marketing list, you'll be able to collect their phone numbers with drip campaigns, for example by offering them exclusive discounts.
But that's not all. Let's talk about one of the most important aspects of starting a new SMS marketing campaign: testing.
Step 2. Send a test-SMS message to your team/family/etc.
NASA doesn't send a rocket into space without a thorough testing campaign.
Neither should you.
Granted, an SMS marketing campaign isn't exactly rocket science; it's much easier. But you are still dealing with something that deserves a quick test before you send out your marketing messages.
You need to know what your SMS will look like when it lands in your customer's inbox and make sure it works properly. And testing will help you do that.
So how do you run a test SMS campaign?
Test: You can start out by sending out a sort of "mini SMS campaign" to friends and family. Make sure that everything looks properly formatted on multiple devices for both iOS and Android.

Determine your goal: Your goal should align neatly with your CTA — more on CTAs later. But you need to ask yourself: where do you want to send people who click on your link? Do you want to generate traffic? Leads? Purchases?

Populate your list: Using your SMS marketing software, you can populate your list by creating a text promotion that will look similar to the one you'd use for your real campaign.

Get feedback: Once you've sent out your test campaign, get feedback from those you sent it to so you can implement those changes when you're doing your campaign.
So when you create your own test campaign, think of it as an investment in your future. A test campaign will give you a foundation upon which you can build your future success, optimize your strengths, and tweak your weaknesses.
Pro tip: Whether you're sending emails or SMS messages it's worth creating a test segment that'll include your team members or friends whom you'd like to review your message. To create such a segment, you just need to make sure that your test recipients contain a distinctive piece of information, e.g. a custom field or a domain name. Just like in the example below, where I've searched for subscribers that have "getresponse" in their email address.
Step 3. Start collecting phone numbers of customers (and/or potential customers)
After running a successful test SMS campaign, what comes next? That's right, you want to send a real one. But to do that, you need to collect the phone numbers of your customers and potential customers.
And there are right and wrong ways to go about this. Do it wrong, and you'll annoy your text recipients. But do it right and people will welcome and engage with your messages.
We'll share a simple two-step tactic you can use to collect phone numbers and build a contact list full of potential customers:
Create an incentive. Perhaps the most common? The coupon shortcode. We already know that consumers respond to SMS coupons 10 times more than they do other types of coupons. So if you ask someone to text and opt-in to your marketing list using a coupon as an incentive, chances are they'll take your offer and get on your SMS contact list.

Below's an example of how one brand called Crayola motivated their email subscribers to opt into their SMS contacts list. The incentive here was a $10 OFF on any orders above $40 and it was highlighted in their email header.
Set up a landing page and signup form. If you have a website that gets a good amount of traffic, you can send your visitors to a signup form that lets people opt in. And if you don't already have a website that gets traffic, you can build a website from scratch using GetResponse or create a landing page and drive traffic to the page from Facebook, Instagram, WhatsApp, etc.

Then you can add a signup form to the landing page, and start using it to collect phone numbers of (potential) customers. Remember to add special offers like coupons and first looks at new products to incentivize them to sign up with their phone numbers.
And the keyword here is "incentivize."
When restaurant chain Texas Roadhouse created a loyalty program for one of its first SMS marketing campaigns, they netted 60,000 new members almost immediately.
They found out that the simple offer of a free appetizer was enough to engage people. Plus, SMS marketing ended up being more effective than email marketing — they discovered that SMS produced more loyal customers based on a higher redemption percentage of 16.6 compared to 3.3 for email.
Simply put, the customers who opted in to a text messaging campaign were more likely to eat at Texas Roadhouse.
Now, this doesn't mean SMS is a silver bullet for marketing. You need to do some research and find what you can do to create loyalty with your customers. And it starts with figuring out what you can offer them via text. Give them something worth signing up for, and you'll have a list in no time. This leads us to step 4.
Step 4. Research and understand the consumers you want to text
In step 3, we've covered how to collect phone numbers and build an SMS contact list.
But in this step, we're addressing what happens after you build your list. What exactly should you be texting subscribers — so they don't start tuning out of your messages?
Because while several statistics show that SMS is a powerful tool for businesses, keep in mind that customers will tune out of your messages if you don't send them offers or content that are relevant to them.
And it's a reality: 88% of respondents, in one survey, said they often ignore texts and calls from businesses.
So if you want to exploit the advantages of using SMS marketing, you have to a) research and nail down your target audience, and b) craft your messages so that your audience knows right away that the offer's right for them. This will ensure that every text message you send is relevant enough to your subscribers.
Here are some ways you can do it:
Build an ideal customer profile. This will give you a baseline for the type(s) of customers you're targeting with your SMS campaigns. What is their income level? Their basic demographic information? Their age? Their socio-economic status? Use these questions to create a basic customer profile. It'd give you a simple idea of who your customers are and text messages or offers they'd like to receive from you.
Monitor customer behavior. For example, how many people visit your website using their mobile phones? What types of content do they tend to explore as opposed to those using a desktop? Watch their behavior and find where your opt-in strategies can fit in.
Use personalization. Just like in email marketing, SMS marketing services let you personalize your messages so that your copy looks and feels like it's meant for that individual subscriber. Start by using their first name and add more customized content as your keep learning more about what they like, enjoy, and buy from you.
Step 5. Create and promote sweetened deals
The advantage of SMS marketing campaigns is that you'll have customers on your list who have already given consent to be contacted.
Don't expect them to do that in exchange for nothing.
Creating and promoting sweetened deals is one of the fastest ways to incentivize customers to sign up to receive your texts. It's also a super-effective way to keep them subscribed.
But "creating an incentive" is vague. Let's talk specifics.
What can you do to engage your audience into becoming and staying SMS subscribers?
Contests: A contest is a great way to get customers subscribing and staying subscribed. Contests make it easy for consumers to sign up for the promise of a reward — especially if their reward is worthwhile.
Coupons: The same logic that applies to contests applies here. It's free for people to sign up for an SMS campaign. So if they'll get a coupon on a product they're interested in while they're at it, they'd likely want to take the coupon.
To customers, signing up for SMS updates from a brand and getting a coupon for it is well worth the little bit of time it takes to do it. In their mind, they're saving money.
On your end, you're giving out a coupon that not every customer will redeem. And in exchange, you're assembling a list of customers you know are "warm leads" for your product.
Read more: 25 Best Lead Magnet Ideas
Step 6. Know when to send your texts
It's not just the "who" that's important, it's the "when."
When are your customers looking at your text messages?
Because different demographics tend to check their phones at different times.
Consider the following statistics:
Younger audiences are more likely to open texts in the morning. For many (if not most) millennials, the first thing they do in the morning is to check their messages. And since there are a lot of millennials in the workforce (35% of the entire workforce), you might expect surprisingly large open rates from early-morning texts to them.
All audiences check their phones earlier in the day. The rates for early-morning checking decline when you include all age groups — but not by much. As many as 61% of people check their smartphones immediately upon waking up.
Most people open texts quickly. Some 90% of text messages will be read within three minutes, according to statistics.
So why is it so important to get the timing right?
Well, because not all demographic groups check their phones at the same time. For example, if your customers are students, then you probably want to start sending your messages as early in the day as possible.
Or let's say that your target customer is a working adult with disposable income. You wouldn't want to send out a text blast when they might be working. To do so might get your text lost in their inbox.
If, on the other hand, you send out your bulk SMS blasts to that same audience in the morning, during lunch breaks, or in the evenings, you're more likely to get your texts seen.
They say that "timing is everything." It's true in show business and comedy. It's true when finding business opportunities. And it's just as true when you're building your SMS marketing campaigns.
So don't treat timing lightly. Put in your research and discover the best time to reach your audience.
And in case you forgot, GetResponse offers a set of features that help you time your SMS campaigns more effectively – using the recipient's time zone, their past behavior history, or by using marketing automation to trigger your campaigns automatically.
Read more: What's the best day and time to send an email? 2020 study.
Step 7. Make sure your in-text CTAs are clickable or visible enough (depending on what type of CTA you're using)
Let's say you've done everything right so far. What's the next step?
Simple: it all comes down to the Call-to-Action (CTA). Without an effective CTA, your texts won't generate the response you need.
And the response you need might be:
driving more traffic to your website.
driving more orders for a specific product.
boosting foot traffic in a physical business presence.
You need to create your CTAs in a way that ensures you get the responses (results) you're looking for.
For example, if looking to drive traffic to a sales page and get customers, you'll want to make a word stand out with all-caps against the more normal text surrounding it.
On the surface, it might not seem like CTAs matter. After all, "A good text is a good text," right?
But they're important. Since you're spending your money and contacting people who will be opening your text messages, this is an opportunity you don't want to squander. And your CTA will help determine whether you have an SMS marketing campaign with a high opening rate…or a high conversion rate.
You want the latter. So here are some ways to make sure your CTA hits the mark:
1. Make sure your link is clickable. Send yourself a test message to make sure that the link functions properly.
Does it go to your website?
Is your site fast to load on mobile? This is crucial because the majority of users leave after 3 seconds of waiting.
Is your site capable of handling heavier traffic patterns, which you can expect after the text blast?
2. Make sure that your link is visible. Your link may be obvious to you. But if it lands in a customer's inbox, how does it look? Here are the elements to make sure your link is visible:
Contrast: Your link should contrast with the rest of your text. If your text is black, does the link show up as blue? Is it underlined? What distinguishes it from the rest of the text?
Effective use of white space: Your CTA shouldn't be in the middle of a paragraph where it can get lost among the text. So use white space to isolate the CTA and call attention to it.
Engage your audience: Sometimes, your audience doesn't mind a little scavenger hunt. A CTA asking them to scan a generated dynamic QR code can encourage buy-in.
Create a challenge: When Mike & Mike, a former talk show at ESPN Radio, created a text marketing campaign, they had listeners wait for a keyword. This is also common in iHeartRadio broadcasts. This way, your CTA is also a hook for encouraging more people to check out your content.
Step 8. Follow up
If you don't want to lose your audience, you have to follow up.
Why is it important?
Because even if you've done everything right so far, cart abandonment rates are about 70-80% globally.
That's right. You can do everything well with SMS marketing and still lose the majority of your customers to simple cart abandonment.
So your SMS marketing software should have ways of creating automated follow-ups.
The more sophisticated it is (e.g. as part of marketing automation workflow), the more you can target your content to each customer's behavior. Here's what you'll want to do to make sure that you do it right:
Craft your messages with specific outcomes in mind.
Let's say you're specifically retargeting people who abandoned their cart. You should write your automated text messages to suit that need specifically.
For one reason, it will get your reader's attention. Whether or not they remember the abandoned cart item, the fact that your message is true will immediately call their attention.
It's also a vital way to build a long-term relationship with each customer.
They won't feel "talked at." They'll feel talked to.
Following up can also be you retargeting people who have clicked through the links in your texts with ads relevant to what they clicked. This can be a powerful way to improve your conversion rates without expanding the size of your SMS audience.
Don't forget the timing for followups, too.
You can set your automated retargeting campaigns to send at the right time.
And it goes without saying that you don't want to send an "abandoned cart" text the instant someone bounces from your page.
That kind of timing with a text campaign will only suggest to your audience that they can expect message after message from you.
But if you space things out enough, you can send a gentle retargeting reminder a few days later. In many cases, you'll find someone genuinely forgot about their interest. And they'll be ready to take action again.
5 examples of SMS marketing campaigns you should learn from
If you want to cut your learning curve short, the fastest way to do it is to study what's worked for SMS marketers in the past.
Let's look at five specific examples of successful SMS marketing campaigns, and break down how they performed:
Example 1. Carl's Jr.
Carl's Jr. is a fast-food restaurant chain with over a thousand locations across the world. Since they're an in-person business, they needed to tie their SMS campaign with an incentive to come into the store.
The strategy: they would offer a $6 burger combination meal for only $3. They utilized their existing SMS list to generate foot traffic.
Carl's Jr. received $14 in revenue for every $1 they spent on the SMS campaign. The goal of attracting more foot traffic worked.
Why it worked:
Carl's Jr. knew what it was looking for. Every SMS marketing campaign should have a goal. Carl's Jr. was looking for foot traffic. They had to drive people to their stores.
Incentivizing. Leveraging their existing SMS marketing list, Carl's Jr. only needed a way to get people into stores. They did that with one of the oldest tricks in the book: a coupon. And it worked.
Example 2. Pizza Hut – United Kingdom
Pizza Hut UK proved that timing is everything. Combining their text promotion with "geo-fencing," their marketing campaign sent their users a promotional message when the consumer was within a certain radius of a Pizza Hut.
Did it work? Of course.
Their campaign was 4.4x as effective as TV ads and 2.6x as effective as online ads, proving that SMS marketing is a powerful way to customize a message to each consumer.
Example 3. Dunkin' Donuts
Dunkin' Donuts was looking for more young adults in the Boston area to join its text message marketing lists.
Rather than look for foot traffic right away, they needed to build the list up. They started off with ads during a local radio DJ's show.

The text promotion resonated with their audience because Dunkin' was specific about where they advertised. They ultimately boosted store traffic by 21% and 17% of participants shared the text message information with at least one friend.
Why it worked:
Knowing their audience. Dunkin' Donuts was looking for a younger crowd in a specific area, which meant that running a national campaign would have been silly. Instead, they catered to a specific radio audience.
Timing. Radio timing is key. When you get people in the morning —when they're most hungry for coffee and a donut — they're going to feel incentivized to sign up for Dunkin'.
Example 4. American Red Cross
One of the keys in an SMS campaign is that you have to make the barrier to entry as minimal as possible.
The American Red Cross has made an art form out of this strategy.
Simply texting a keyword to a text message number (like in their Text HAITI to 90999 program, for instance) gets a confirmation message from the American Red Cross. This donation then shows up on the individual's billing statement.
Contrast this to the other possibilities.
If the American Red Cross asked people to visit their website, fill out a form, and then make a donation, it would likely have lower conversion rates because people are more likely to drop off if they have to jump through so many hoops.
Example 5. Ford Motors
Ford Motors got a 15.4% conversion rate when it created a new SMS marketing list. It created this list by taking out print ads and promising 0% APR financing, plus $1,500 toward the first three payments.
With potential rewards like that, consumers had a clear choice. They could check out a free text messaging list and potentially find the car they were looking for.
Why it worked:
Retargeting. Ford used retargeting in this campaign effectively, reaching out to users who had signed up, but not being overly pushy or sending new messages every day. This helped keep conversion rates as high as they were.
Low commitment. Ford took out an ad that asked people to text a word to a number–and that's it. Remember, the key in SMS marketing is to establish a low risk to a high potential reward in the mind of the consumer.
Start taking advantage of SMS marketing
SMS marketing isn't going anywhere.
If anything, the standard SMS inbox has replaced email. People love to look at their phones.
As we've demonstrated, many people even prefer that businesses contact them via phone.
And smartphones are ubiquitous so the level of customization possible with SMS marketing is uniquely suited to the information age.
The only question is, what are you going to do about it?
And if you'd like to learn about running SMS campaigns with GetResponse, check out the page below: