It's no wonder every business or brand is focusing on mobile marketing as a strategy to reach their target audience. So it's no longer about how to reach customers, but more importantly how to retain them. Good content or email that is mobile friendly can help your business make a long lasting first impression that will eventually turn leads into loyal customers.
Even companies that use different social media platforms to advertise their brand must have a call to action that is mobile friendly. However, with intensive smart phone usage comes common mobile marketing mistakes that are not only draining money but also wasting businesses' valuable time. These mistakes affect both small and big companies. Therefore, as mobile usage continue to skyrocket, these are the top 5 mobile marketing mistakes that every business or brand should avoid.
1. Information sent to all mobile phones
When it comes to mobile marketing strategies, most businesses fail because they focus on delivering information without knowing the user's device. The information you're sending could go to a customer with an iPhone, Windows phone, or even a Blackberry. The way the message will display using these mobile devices will elicit different reactions which can either be positive or negative. Since the aim of a business is to make a profit, you wouldn't want a negative response from customers.
If your message does not target customers with specific devices, such as Android phones only, then the information you're relying upon will not yield any action. So instead of focusing on sending messages to any mobile device, get to know the devices that a large number of your audience are using and deliver your message based on that mobile device. This sample marketing plan will ensure that response codes or content from text and emails are easy to read, hence works to elicit positive reactions towards your marketing campaign.
2. One message to all customers
While there are various ways most businesses reach their target audience, the most common mobile marketing mistake that they make is to send one message to all their customers. This message can be in the form of an SMS or email. What these businesses fail to know is that each customer has a unique way with how they interact with their mobile devices. For example, some people, especially the youth, spend a bigger portion of their time on social media without checking their email often. Adults or working class, on the other hand, tend to check or read their emails daily and spend less time on their social media platforms.
Understand the benefits of an email, social media, or SMS, depending on the needs of your customers because the best communication avenue will increase engagement with customers. Use an SMS to send urgent information to large audiences. Push notifications will help you know your customers at a personal level. Ultimately, your customers should be familiar with the communication channel that you choose.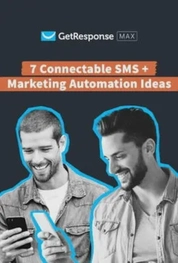 7 Connectable SMS Marketing Automation Ideas
Want to make more impact with your SMS campaigns? Take a look at these 7 SMS marketing automation campaign ideas and learn how to set them up all by yourself.
Download guide
3. Failure to educate your target audience
While it's easy to come up with a mobile marketing strategy, most companies fail to inform or educate their customers on how to participate in the campaign. It's easy to ignore this rule and just assume your clients will eventually know. However, while you're waiting for them to know about your brilliant promotion, your competitors will be educating their customers and taking your loyal consumers in the process! Customers need to know if you have an app from which they can access your product, reviews, get brand information or access any services available.
The best way that your clients can know any new information is to launch a massive campaign through SMS, your social media platforms, website or traditional mobile ads. This education campaign will help your target audience better understand how the product benefits or adds value to their life. Just make sure the information you're giving out is timely, accurate and ideal for that particular age group. So, whether it's a call to action, launching a new product or an app download, your target audience needs to have clear and easy to understand information about all your new releases.
4. Fail to include SMS as a marketing strategy
While word of mouth is an efficient strategy for ensuring that the locals know about the products or services you are offering; most businesses make the mistake of focusing on social media as the main avenue for promoting their brand. What they fail to realize is that every mobile phone come with a messaging option from which all customers send and receive texts. So, instead of using expensive mobile marketing strategies, all businesses have the option of integrating texts into their campaigns.
An SMS works as an efficient marketing channel because all company consumers, including customers, are already using it. It's also easy to start, use, understand and you don't even need to educate people on how to text. You can also use text messaging to inform customers about your new products or draw attention to a pre-existing promotions and advertisements. While an SMS will do the work of reaching your target audience on their mobile devices, also give your customers the option to opt out of the plan anytime.
5. Click here call to action buttons
A poor call to action will make your customers hesitant, and you will not get them to your landing page. Also, when visitors come to your page but fail to understand the message you're trying to portray they will leave the website without completing the next step. A call to action intends to persuade a customer to leave a review, sign up to receive emails about the business or buy a product. It's also the most important way to increase conversion rates. That means poor call to action buttons such as "buy here" or "click here" will do very little to communicate value to your visitors.
While large font size, vibrant colors, and center placement will help your call to action stand out, user and social data will also assist you in understanding why your call to action is ineffective. Ultimately, your call to action has to be simple and precise while considering what the user will experience upon clicking and should be appropriate to that particular target group.
An efficient mobile marketing strategy considers all avenues on how the mobile device can help boost a business visibility. With a simple yet effective call to action button, one can craft an effective sample marketing plan to suit a particular mobile device and incorporating SMS messaging, you can create an effective mobile marketing campaign that understands a customer's needs as well as their devices.
Over to you
How about you? Do you have any other mobile marketing mistakes that you'd like to help others avoid? Share your thoughts in the comments.