Live Web Chat
Chat directly with your customers and make more sales
Connect with, engage, and support your customers online with web chats.
Start for free | No credit card required | Cancel anytime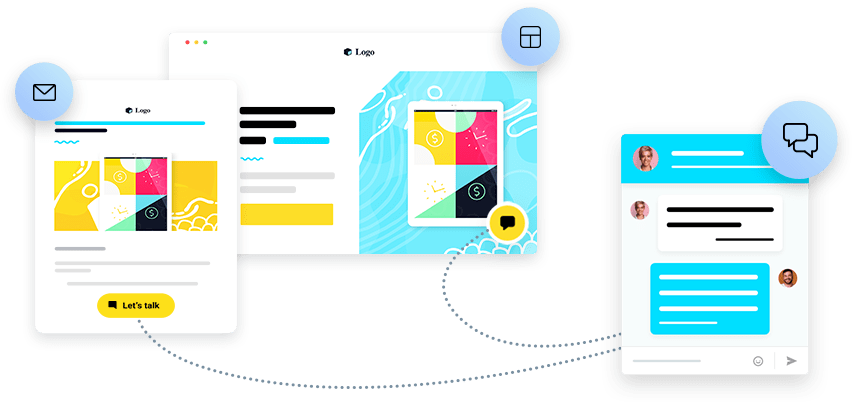 Let your audience communicate with you directly
Provide real-time, instant support

Give your customers a direct channel to contact you and offer them timely support.

Create segments based on chat history

Apply tags and custom fields to your contacts based on their chats history.

Chat from landing pages and emails

Enable direct chats for customers from your landing pages and emails.

Be there when they need you most

Make buying from you easier by eliminating doubts in real-time.
An instant way to connect with your customers
Letting page visitors and subscribers chat with you in real-time creates deeper connections and helps them convert faster.
Enable chats directly from your landing pages
Add a live chat window to your landing page in one click. Chat live with page visitors, even if they haven't joined your email list yet.
Add a chat window to your landing pages
Use GetResponse Chats on your own website
Engage your customers and prospects early on
TRY CHATS AND LANDING PAGES FREE ›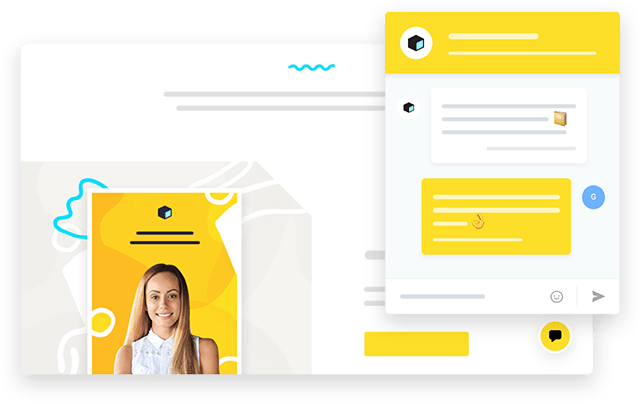 Turn emails into live conversations
Turn your email marketing campaigns into a one-on-one experience for your audience.
Add a chat button or text link to your emails
Provide instant support with real-time conversations
CREATE YOUR CONVERSATIONAL EMAIL ›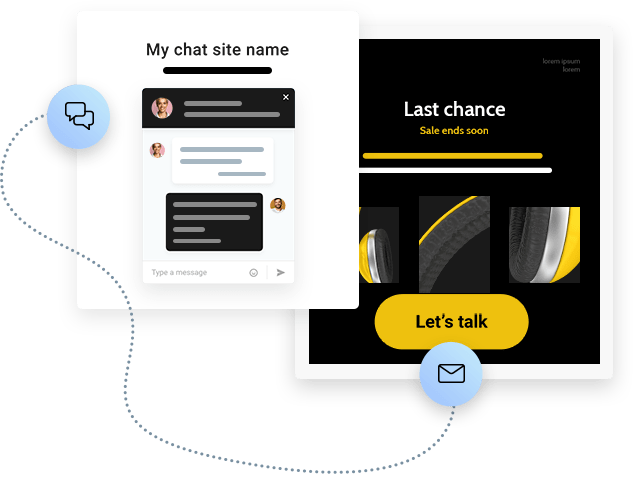 Set the look and feel of your chat window
Customize your chat window and page with your branding and color scheme.
Add a welcome message that inviting people to chat
Add a logo for instant brand recognition
Pick the right color scheme for your chats
Style the chat button on your landing pages
TRY CHATS FREE TODAY ›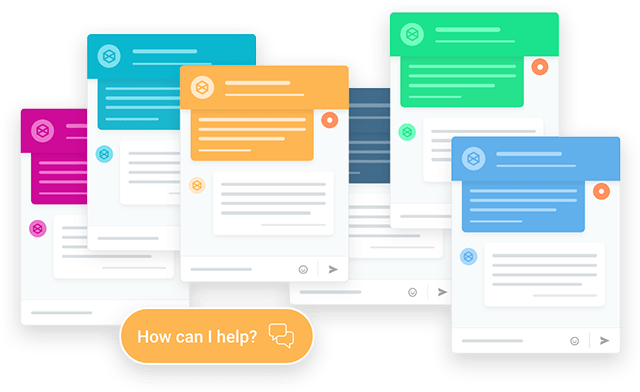 Start live chatting today
Live chat on your schedule
Enable asynchronous chats – send automated away messages when you're not around, and follow-up with chats you get in the meantime via email.
Catch every chat you get – even when you're not around
Even if you can't be online 24/7, your chats can. Live chat according to your schedule, then reply when you're back online.
Stay transparent with your current chat statuses
Display your working hours when a chat is off
Inform visitors when you'll be back with auto-replies
Set up notifications for incoming chats
SET UP YOUR CHAT ›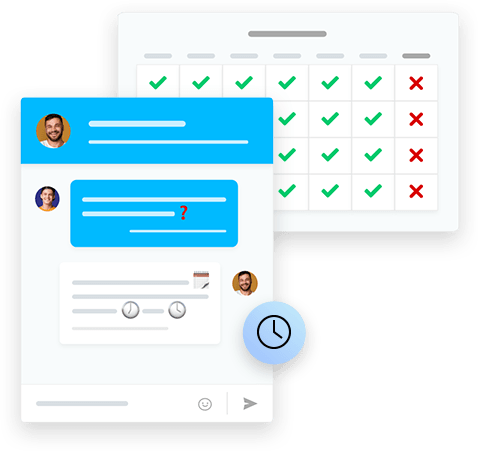 Stay in touch with offline chat visitors
Make sure you don't miss the opportunity to connect using visitor capture forms.
Continue the conversation using a chat window
Reply to all chat submissions via email
TRY CHATS FREE ›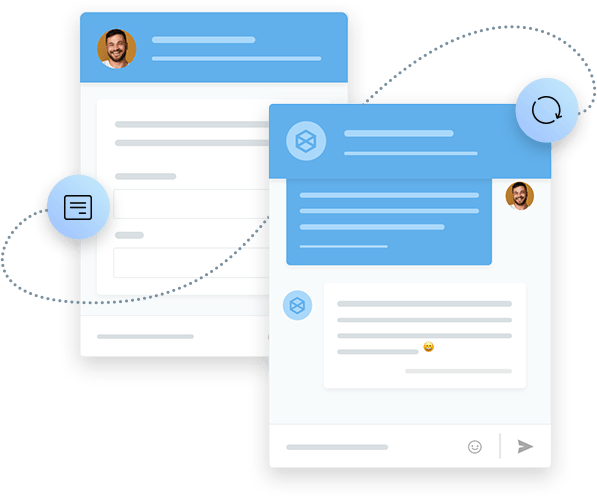 Make improvements based on chat performance and histories
Take action based on who's chatting, what they chat about, and how often.
Monitor your active and finished chats
Analyze average response time and chat duration
Create actionable segments in your account
Learn where most chats start from: emails, landing pages, or your own chat page
START CHATTING WITH YOUR CONTACTS ›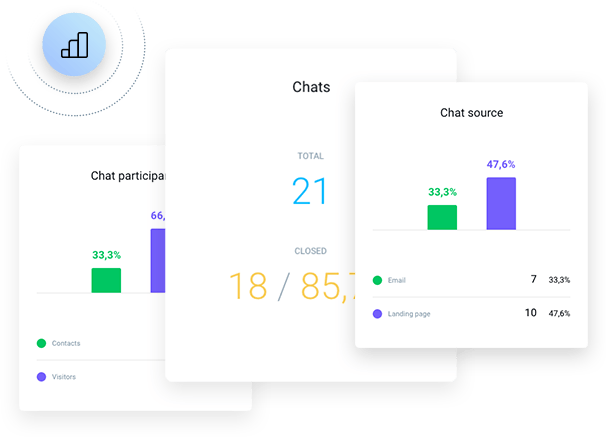 Quickstart resources for live chatting with your customers
Learn more about the live chat tool and how it can take customer support to the next level.

READ ABOUT LIVE CHAT ›

Find out how pandemic changed America's approach to digital therapy and what advantages can live chat bring to it.

READ THE REPORT ›

For advanced tactics and a deeper look into our Live Web Chat, check out our dedicated Chats Help Center.

HELP CENTER ›
GetResponse Chats explained
What are chats?

A chat or an online chat refers to the process of communicating over the Internet. It's usually text-based and takes place in real-time.

GetResponse Chats is a solution that lets you run this type of communication with your audience directly from your website, landing page, or email.

The user only needs to click on your link, button, or prompt, and this will open up a chat window where they can start a conversation with your brand.
What are the main benefits of chats?

1. Chats can increase your conversion rates. By offering a direct way of communication, you can answer any questions and overcome any hesitations your potential customers may have before placing their first order.

2. Chats can increase your subscription rate. You can use a live chat feature to ask your audience for their contact details to stay in touch after the conversation ends.

3. Chats help you create a more personalized experience for your audience. There's no better way to build stronger relations with your audience and turn them into brand advocates than by having a real-time conversation – even while on the go. The GetResponse Chats solution comes with a mobile app that lets you stay in touch wherever you are.
What's the difference between live chat and chat bot?

Live chats are any online conversation carried out by a human. Usually initiated by customers or prospects, chats can start from websites, emails, or other types of marketing channels.

The main benefit of live chats is their role in building strong and long-lasting relationships. Live chats add a human touch to web conversations. Therefore, they're more engaging and provide higher quality support.

There are two types of chats:

real-time – handled live, soon after a chat is submitted
asynchronous – handled after a period of time

Chatbots are types of chat interactions carried out by a machine. These types of conversations are useful for handling repetitive and simple inquiries. The value of chatbots usually depends on their intelligence and ability to solve particular issues and questions. Their main benefit is 24/7 availability.
Start live chatting today