How many times have you been to a McDonald's and heard them ask, "do you want fries with that?" after placing your order? That's a classic example of cross-selling.
Did you know this simple sales technique reportedly increases McDonald's annual revenue by 15-40%?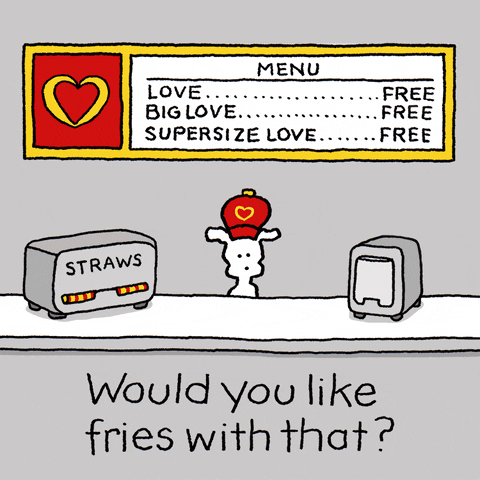 And the same technique can be deployed in online businesses. In your business. In fact, McKinsey & Company reports that cross-selling and other category penetration tactics can boost sales and profits by up to 20% and 30%, respectively.
Here is the other interesting thing. Cross-selling and upselling for ecommerce stores can go beyond the website. In addition to pushing the "Frequently Bought Together" recommendations on your checkout page, you can run cross-selling campaigns as a part of your email marketing strategy.
And that's what we'll focus on in this post. You will learn how to write cross-sell emails that can skyrocket your sales. You will also see how these post-purchase emails can help you build profitable, long-lasting customer relationships.
But first…
What are cross-sell emails?
A cross-sell email allows you to recommend additional related or complimentary products, a.k.a. cross-sell products, to a prospective customer or an existing customer. The recommended items depend on the products a visitor is currently viewing in your store or the ones in their shopping cart.
You can also use existing customer purchase history to recommend appropriate products, persuading customers to come back and complete their journey.
These emails (featured below) effectively turn prospective customers into returning customers. Moreover, cross-sell emails allow you to reach a visitor or a customer long after they've left your store.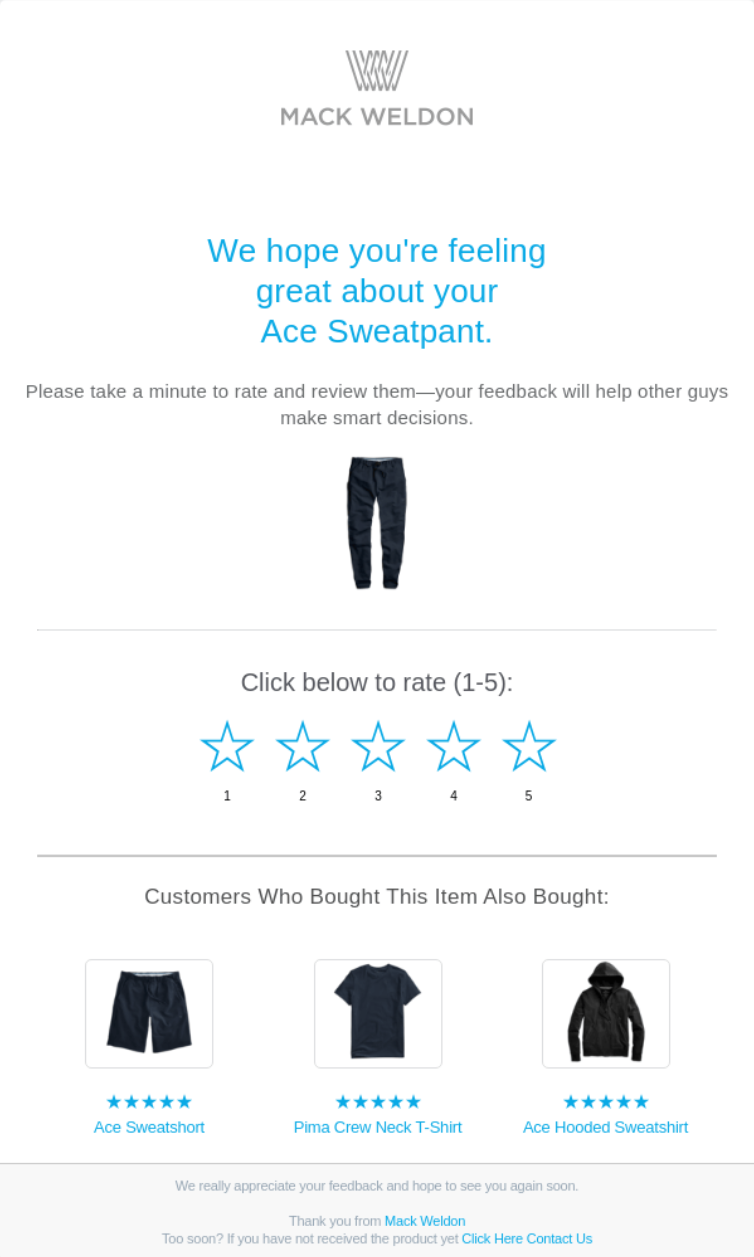 Cross-sell emails are typically sent right after a visitor leaves your store, regardless of whether or not they have completed the purchase. In fact, these communications are an excellent way to persuade lost prospects to reconsider.
Below is an excellent example of a cross-sell email recommending items based on a user's past purchase history.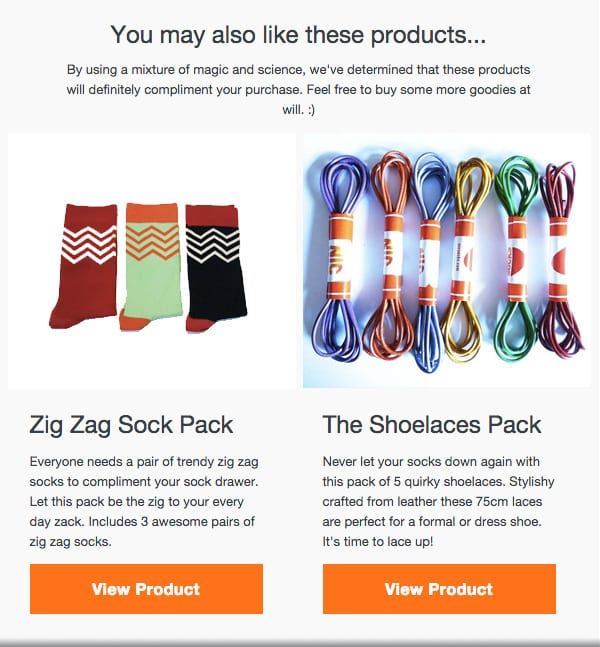 Now that you know what cross-selling emails are, let's discuss why they are essential.
Why are cross-sell emails so important?
Win more sales with the least investment; that's the goal of every marketer. It's also one of the benefits of cross-selling in email marketing.
Here are the 3 major reasons to cross-sell via emails:
1. Drive repeat purchases
What is the first place you look when you need to increase your revenue? New customers? Sure, but that's not your most valuable asset. Your most valuable asset is your existing customer base.
Cross-selling and upselling emails help you capitalize on that to drive repeat purchases. And the best part is that repeat customers are known to spend 67% more than new customers.
What's more, since you've built up that trust, they're more likely to buy your more expensive products.
Moreover, it's way harder to sell to a new customer than an existing one. And with limited resources, wouldn't it be better to use them where you'd get the best bang for your buck?
After all, getting a new customer can cost you up to 5x more. And to get them to spend at the current spending level of your existing customers will cost you 16x more, according to Francis Buttle.
2. Build loyalty through personalization
The effectiveness of cross-selling emails relies on your ability to recommend the right products. You have to know what the customer is interested in based on their behavior in your store or their past purchases. Then, personalize your product recommendations accordingly. That's the only way to generate sales through cross-selling.
Of course, you don't have to do that manually. There are plenty of smart AI algorithms that gather invaluable customer data and personalize the customer offer for you. Such product recommendations learn over time, adapt to the buyers' needs, and easily make an integral part of your automation workflows.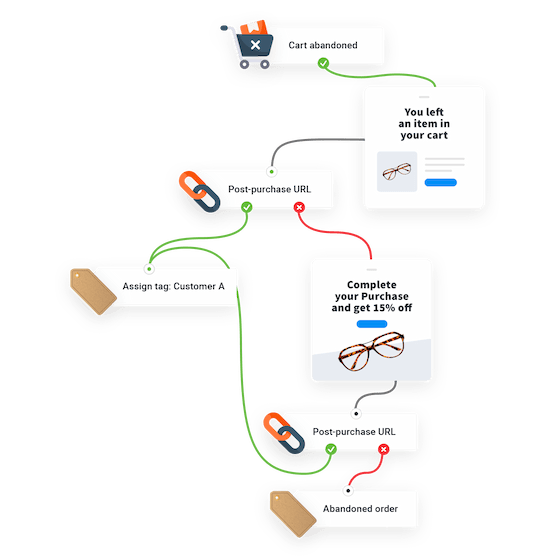 This personalization cultivates brand loyalty over time. Customers will see that you understand their needs based on the cross-selling emails they receive.
Moreover, they'll never have to look for other products elsewhere. That's because you'll proactively suggest those products to them. So they'll stick with your brand for longer and may even become brand advocates over time.
After all, loyal customers are known to refer more people. For example, this report shows a customer who has made ten purchases from an apparel store usually refers seven other people to that site.
Learn more about brand loyalty from the top industry's experts on our marketing podcast:
3. Increase CLV
The biggest benefit of loyalty is an increase in a customer's lifetime value (CLV). If you didn't already know, CLV estimates the revenue a customer will bring your brand during the length of your relationship.
While most people think CLV is all about profits, it goes beyond that. Let me explain.
CLV is a great indicator of how deep your relationship with your existing customers is. What is more, it can help you identify big spenders as well as potential brand advocates.
So what is the relationship between cross-selling emails and CLV?

When used effectively, cross-sell emails helps increase your average order value. That translates to a boost in revenue. A great example of a brand using cross-sells emails is Dollar Shave Club, featured above.
They offer a monthly subscription where they ship shaving products like razors. But before their members' monthly packages ship out, they send out a cross-sell email.
It contains a few related products that existing customers can add to their monthly shipments. Doing this can increase their average order value in the short term.
In the long run, cross-sell emails lead to an extended customer lifetime value.
How to write cross-sell emails that increase CLV
Cross-sell emails are typically short and sweet. But if your goal is to boost your ROI specifically, then there are certain email optimization strategies you could try. These are:
Highlight the product a customer is looking to buy or has already bought
Start by reminding your customer what they've already purchased. This works if you're cross-selling in an order confirmation email.
Alternatively, you can remind the prospect of the product they've left in their cart if the cross-sell is attached to an abandoned cart email.
Offer a handful of related or complementary products
This is the most vital aspect of your email because this is where you offer your customer other products.
Recommend products that complement the item they bought. Again, there are dedicated AI solutions that can automatically identify the right products and recommend them to your customers. It'll save you a lot of time and hassle!
That said, make sure only to include a few products. This way, you don't overwhelm your customers causing choice paralysis.
Make it a part of a series and not a one-time email
Every successful cross-sell email is usually part of a series. You may need to do follow-ups to boost the effectiveness of your campaign.
Using an ecommerce marketing automation tool, you can send out cross-sell emails at specific intervals. You can also deploy them based on specific triggers, e.g., when sending an order confirmation email, abandoned cart email, etc.
With all that in mind, it's time to answer the big question: how to actually write a converting cross-selling email?
Copywriting best practices for email marketing cross-selling
So far, we've covered quite a few successful cross-sell email examples. And they all stood out to us for one reason only: their excellent copywriting.
So here are some tips to keep in mind when working on your next copy.
1. Write intriguing subject lines
You won't sell anything if your cross-sell email never gets opened. So here are a few hacks to create killer subject lines.
Keep your subject lines short short and sweet
Add an emoji 🙌
Use personalization, Alex
Answer the question, "What's in it for me?"
Try our new AI Email Generator to craft more than just subject lines
Using these subject line tips can drastically improve your email open rates.
2. Craft engaging preheaders
A preheader is that short piece of text you see next to the subject line when looking at your email inbox.
Preheaders are invaluable in raising curiosity and drawing attention. In copywriting, the preheader is synonymous with a lead. Here are 6 strategies for starting your preheader:
Offer lead, e.g. "Get our latest footwear at 40% off"
Promise lead, e.g. "Get ripped in 3 months with no side effects"
Problem-solution lead, e.g. "Tired of wearing boring outfits? This outfit will make you look like a runway model…"
Big secret lead, e.g. "Exposed: The only permanent, long-lasting cure to hair loss…"
Story lead, e.g. "I didn't believe it the first time until it happened again…"
The goal here is to entice your reader to open your email.
3. Add social proof
Nothing gets your customer over the edge better than social proof. This can be in the form of testimonials, reviews, etc.
You want to make your customer feel more confident about their decision. Therefore, make sure your email copy provides social proof.
4. Give them a reason to act now
Are you running a clearance sale? Black Friday sale? Put a timer on it and stick to it.
You can also achieve this by offering a limited number of products or an expiring discount code. Doing this puts pressure on your customers and gives them a reason to act before they miss out.
5. Offer a strong guarantee
How confident is your message? Amazon does this with Amazon Prime. Can you guarantee fast shopping? Can you offer a 100% money-back guarantee?
Your goal is to take away as much risk from your customer that it makes it hard for them to say no.
When is it good to send a cross-sell email?
Now that you know the 'what' and 'why,' it's time to decide on the 'when.' You have four main opportunities you can capitalize on to send cross-sell emails.
After a previous purchase
Here you can give a customer recommendations on other related or complimentary products. This is a unique opportunity for you to capitalize on while the customer is still in the buying mood.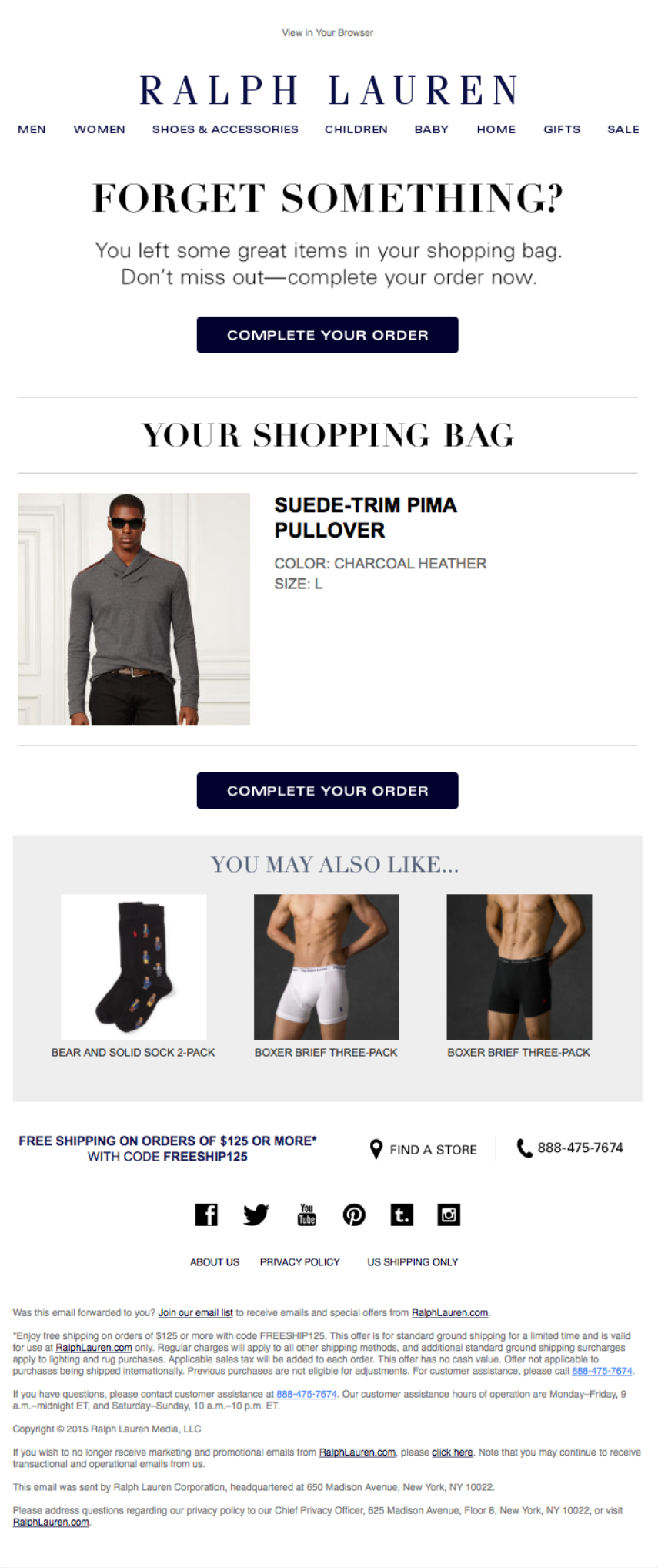 Ralph Lauren (featured above) does a good job of these email campaigns. You can also do this with your order confirmation, replenishment, and shipping confirmation.
In the cart abandonment email
Another opportunity for a cross-sell email is in the cart abandonment email. When visitors don't check out, you can send them an abandoned cart email that cross-sells.

Use this opportunity to encourage them to check out and add a couple of items to their cart. You can see this action in the above cross-sell email example by Massdrop.
Adding a cross-sell in these emails can also inform the prospect of other related products, which may trigger their interest once more and drive a profitable sale.
In regular sales emails
Got a sale going on? Cross-sell emails can help you maximize it for a higher ROI. You can turn any regular sales email into a cross-sell email. Since you were going to send the email anyway, why not take that opportunity to recommend additional products?

Google Store does a good job at this for one of their Black Friday Sales.
In the welcome email series
When people sign up for your newsletter, they're declaring that they want to hear from you. They want to receive product updates based on what they've shown interest in.
That gives you a unique opportunity to tell them about your other products.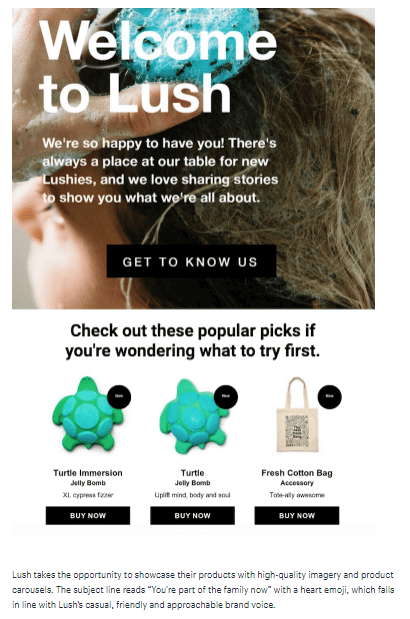 Lush does a wonderful job of welcoming customers while offering some products.
Types of products you can recommend
Cross-selling is about recommending related or complimentary products.
Usually, you'll have the data for all customer purchases and browsing behavior. With this data and an AI recommendation tool, you should be able to identify and recommend the right complementary products to your customers as an integral part of their natural purchasing cycle.
Plus, you can automate the whole process with advanced ecommerce marketing automation software, like GetResponse MAX.

For instance, the automation feature lets you set dynamic segment filters. By combining it with an AI product recommendation, you can ensure your customers only receive relevant product suggestions.

If you don't have the data, pick your best-selling or most popular products as recommendations.
Here are some of the recommendations you can display: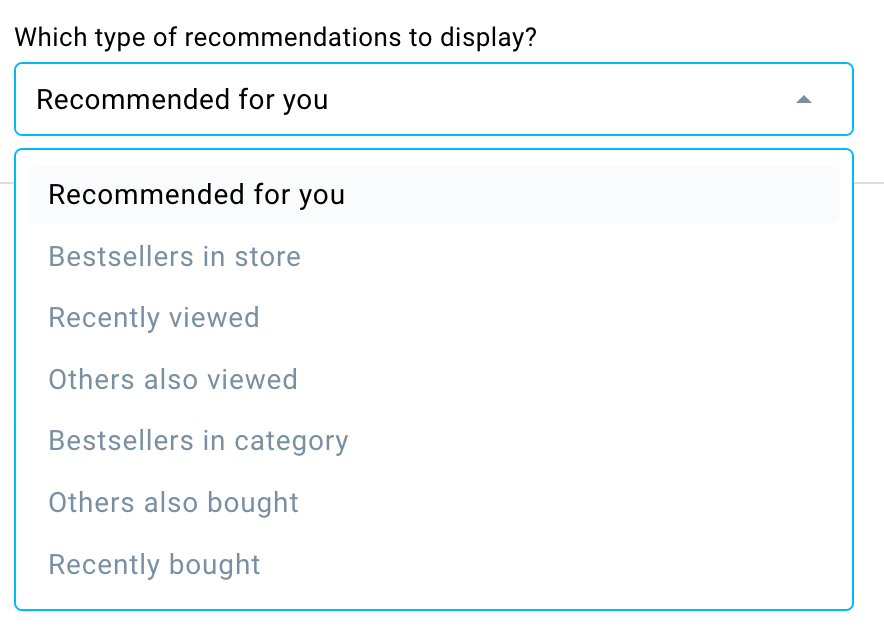 Now, let's take a look at some good examples that you can use as cross-sell email templates for your campaign.
5 good examples of cross-sell emails
1. Methodical Coffee

This is an example of an embedd that cross-sells within your typical product sales email. With the subject line "Methodical Best Seller" and a coffee emoji, it grabs your attention.
They go straight to the point with the headline "crowd favorites" and add a touch of personality with their quirky product names.
2. Crate & Barrel email example

Talk about maximizing every sale opportunity! Crate & Barrel shows us how you can add a cross-sell email to an order confirmation email with ease.
They recommend 4 products using a simple, clean design right after the order details.
3. Saatchi Art email example

Saatchi Art leaves no stone unturned to improve its email marketing ROI. First, they offer you a discount to go back and check out. Then, they include a few pieces of art to lure the customers in with more stunning pieces.
The subject line "The Artworks You Looked at Are Being Discovered;" stirs your competitive spirit and gives you a sense of urgency and FOMO.
4. Soak & Sleep email example

Here's an example of a cross-sale masquerading as a clearance or regular sales email.
With a subject line offering a discount of up to 50%, they know how to make customers feel they're getting a great bargain.
Moreover, they use trust badges for social proof. They also display their new product line as well as their top sellers.
5. Atoms email example

Yet another regular sales email turned cross-sell by Atoms to take advantage of the back-to-school fever. They're offering two shoe models and "Everyday Masks" as part of the cross-sell.
Start cross-selling today!
Email marketing helps nurture and deepen your relationship with customers. But cross-sell emails give your campaign teeth. These emails help drive repeat purchases, build loyalty through personalization, and ultimately increase a CLV.
You can embed these emails in most of your regular email campaigns. That includes welcome, abandoned cart, order confirmation, and thank-you emails.
With the proven copywriting best practices and cross-sell email examples to draw inspiration from, you should be able to launch a successful cross-selling email marketing strategy for your store.
Ready to start adding cross-sell emails to your email marketing campaign?