GetResponse
Mobile App
Manage campaigns, collect leads, and stay
up-to-date thanks to remote access for your GetResponse
account, wherever you are and whenever you need it.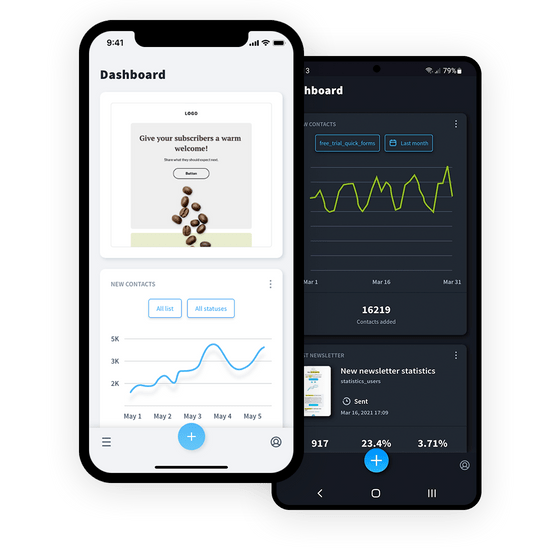 Get it all done on the go!
Access data you need the moment you need it and stay on top
of your marketing operations even when on the move.
Instant access to campaign stats
and contact database.

Customizable dashboard with smart widgets and
intuitive navigation.

Prompt insights on contacts' engagement
and campaigns' efficiency.
Powerful marketing insights at your fingertips
LIST MANAGEMENT
Manage your list ad hoc
Add new contacts, maintain lists, and monitor your contact database from within the app.
Intuitive widgets and filters bring the most important statistics forward and let you gather new insights.
Accessible statistics:
New and deleted contacts
Subscription methods
Unsubscribe methods
Subscriber locations
EMAIL MARKETING & AUTORESPONDERS
Email marketing on the move
Create plain-text emails, manage your newsletters and autoresponders, and track their performance in a timely manner with easy-to-read charts.
Accessible statistics:
General information and performance
Stats over time
Details on active autoresponder series
Links clicked
FORMS & LANDING PAGES
Keep tabs on signups
Monitor campaigns and signup statistics and quickly access A/B test details, landing page link-sharing, mobile inbox preview.
Accessible statistics:
A/B test outcomes
Page views
Unique visitors
New signups
More features you can access on the go
Even track complex campaigns remotely every step of the way.
GetResponse apps to help you stay ahead
Just starting out?
Try GetResponse for free
NO CREDIT CARD REQUIRED | PRIVACY PROTECTED