In an image-driven world, visualization is still a hot topic, especially in marketing (in email marketing too 😉 !). The hype around video content is still alive and well, and blogging is everything but over.
If you're planning on starting your own business or stepping up your business game, your content strategy should still involve blogging, as there are great marketing benefits of it.
Featuring a blog as part of your website significantly increases your chances of being ranked higher in search engines.
Also, businesses that use blogging in their content marketing campaigns have increased chances of generating more leads than those who don't. There are dozens of good reasons why blogging is important:
It's an essential content marketing tactic.
Blogs provide in-depth material that is engaging.
People trust blogs.
It allow businesses to develop a unique brand voice and stand out from the crowd.
Blogging drives traffic to sites and is excellent for SEO campaigns.
Blogs provide inbound links that give sites a higher rank in search engines.
Blogging is cost-effective and gets results.
Blogs allow businesses to get in touch with their consumers.
Blogging is essential for a strong social media presence.
It's better than advertising.
With all this in mind, let's go through some of the most important marketing benefits of blogging, as well as what the blogging best practices.
Marketing benefits of blogging
Blogging isn't only about writing blog posts. It's an excellent inbound technique that helps every online business create value for its consumer base and sell their products more effectively.
Now, business blogging has to be all about quality, usefulness, and relevance. These three things give any online business authority in their niche by posting in-depth content that will capture the right audience by providing specific solutions to specific problems.
If we take all these facts into consideration, we can safely say that the most important marketing benefits of blogging are:
Industry expertise
SEO & more traffic
Exposure
Subscriptions
Lead generation
Backlinks
Industry expertise
As a business owner, you want to show your audience that you are an expert in your industry. The main benefit you get from this is trust. The best way to do this is by sharing high-quality, industry-relevant knowledge with your customer base.
That means that you need to be consistent in publishing in-depth content. In return, you build confidence with the customers that will result in their trust. A loyal customer is the best customer, and it's much easier to sell if they trust your brand.
SEO & traffic
The main benefit of search engine optimization is higher ranking in search engine results. But, SEO is much more than just that. It's a tactic that works best in the long run. SEO makes your brand visible and it helps you stand out from the crowd.
Writing blogs around the most frequently used and popular keywords when publishing relevant content is the best way to increase online visibility. Higher ranking means more online users seeing your blog.
On top of all that, blogging also requires using online tools to increase online visibility in searches even more. It's a fantastic way to drive more traffic to your website.
A lot of recent studies have shown that most online users don't go beyond the first page of search results. So, if your brand doesn't show up on page one of Google, it's like you don't exist. If you use SEO to your advantage, you get higher ranking and increased visibility, which allows you to feature more prominently in search engine results.
The higher the ranking, the more traffic you drive to your website. People use the most popular keywords to find what they need, so blogging and keeping SEO in mind helps you be the first to answer their questions and solve their problems.
Also, if you need help writing SEO-friendly content we're here for you ;).
Exposure
Building brand awareness is an excellent way to stay competitive by staying relevant. Instead of investing in promoting your brand, building awareness allows it to promote itself.
Every brand needs online exposure to increase its visibility and a blog can provide it by sharing valuable knowledge.
It's not only about selling and revenue, it's also about catering to the needs of your customers and educating them further about your industry, niche, brand, products, services, and so on.
It's about adding value and spreading awareness about new features and products.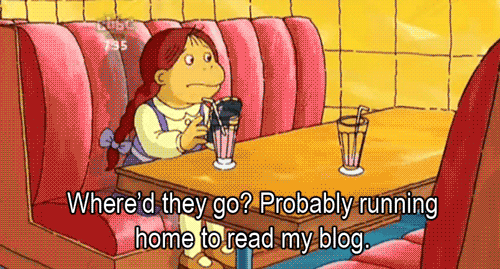 Subscriptions
Subscriptions are a great way for any brand to engage with their customers and get to know their preferences and habits.
Blogging helps businesses collect emails – asking people to subscribe to a blog they find helpful is much easier than trying to get them to subscribe for email updates as soon as they land on the homepage.
All these subscriptions are an excellent way to add more users to your marketing funnel to improve brand-customer communication, offer products that might interest your audience, promote new products, and so on.
Lead generation
When a business builds a list of potential customers, they can use these subscriptions to improve their lead generation. Communication allows a brand to convert potential customers into loyal consumers.
That's why most brands use such a contact form to capture those potential customers. Once a brand generates enough demand, they can sell easier, but it's also a great way to cultivate interest in their products.
Backlinks
One of the greatest SEO growth tools is generating inbound or backlinks. These are links on other web pages relevant to your business niche that link back to your website. Backlinks create even more value for customers and also help online businesses remain relevant in search engine results.
Be sure to check out the most effective tactics to earn high-quality links.
Best practices in blogging
Now that we've pointed out some of the most important marketing benefits of blogging, let's review the best blogging practices to get those very benefits.
Create a content calendar
A content calendar helps business get organized throughout the entire year. This helps brands be more productive, stay consistent, and always have the most relevant content prepared.
Use a content calendar to show the right information to the right audience and at the right moment. This way you'll avoid cluttering your blog with loads of chaotic information.
There are many online tools that may help you and your team plan all the posts in advance and stay on schedule.
Provide value
Consistent content generation helps an online business create value.
And when a brand consistently provides value, it helps them grow and expand their customer base, increase lead generation and conversion rates and generate more revenue.
Blogging is the best way to do this, as you can post in-depth and original pieces, that can't be found anywhere else, as many times as you find suitable, even with little budget.
I'm sure people will appreciate you being a knowledge compendium on everything they need to know about your niche.
To make sure that you know whom you're developing content for consider creating a persona – a representation of your ideal reader.
Make it visual
Blogs help brands find their voice by exploring issues and concerns of their audiences. Brands can capture the attention of their customers by providing exactly what their audience needs. This is where visualization plays an important part.
Content greatly matters but content alone isn't enough to make the best impression. So, making it visual allows the customers to not only read about the business but also see it.
If you give examples, try to add a couple of screenshots and photos (always give credit, btw.). If you're trying to illustrate something or give instructions, you can make infographics, GIFs or even videos, and embed them in your blogpost.
GetResponse likes to show visual examples of good marketing automation workflows on the blog. Why? Because it familiarises the user with the product, gives visual inspiration and shows that it's easy to use.
Keep the content quality consistent
If the quality of your content is consistent, it helps potential customers and online users trust your business.
Publishing quality content means establishing authority in your line of work.
On top of all that, quality, fresh and unique content ranks well on Google, so you do the math.
Do all the needed research before you make statements on your blog. Write on subjects that matter, even if it matters to a teeny-tiny segment of your target audience. Enrich the content in any way you seem fit.
Also, it's not a good practice to publish clickbaits – it makes you untrustworthy and lowers your blog's quality.
And, remember to proofread your content before you hit "publish" to avoid any funny or business-threatening mishaps.
Engage with users
Modern online users love personalization. Customers are more likely to buy from the brands that engage with them and listen to them. One of the best ways to this is by asking for feedback.
Customers can use blogs to leave comments and impressions, which is an excellent way to engage with them even more. Some companies adjust their marketing strategies according to the engagement they get.
So, encourage your readers to comment on your content, say what they like and dislike, ask questions, and tell you what they'd like to see in the future. Then, reply to as many of them as you can to make the audience feel seen. They'll know there's a real person behind the blog that cares about their community and they'll visit you and engage with you even more.
Promote your content
Since blogs help brands promote their content, blogging is an excellent way to stay ahead of the competition. Every brand that actively promotes their content in an interesting and consistent way encourages its customers to buy more. Blogging is all about the content promotion so by putting the two together, brands can reap significant benefits.
Share the posts you publish on social media and send content updates to your subscribers once in a while ;).
Allow guest authors to share their knowledge
I already touched the subject of how backlinks help your brand increase organic traffic, search engine rankings, and the overall domain authority. Well, there's one more way: guest authors. Guest blogging has many benefits such as mutual reputation benefits, increased social visibility and, of course, more traffic.
Set up a subscription funnel
Setting up a subscription funnel (sometimes called a lead funnel) by using your blog allows you to gather valuable contacts, engage with them, establish a relationship, and maintain a connection with your customer base to increase sales and grow more revenue.
Here's a more-detailed post where you can learn about setting up effective lead funnels.
Add great calls-to-action
CTA or a call to action, is the key to mastering the best blogging practices.
You probably know CTAs from (and use them in) your emails and landing pages. But do you incorporate them into your blog?
A blogpost captures the attention of the potential customer by subtly promoting your product in the copy and once the person is hooked, you place a CTA to seal the deal.
Good CTAs increase conversion rates, create more revenue and grow and expand your business. More importantly, CTAs directly invite customers to trust your brand and buy your products.
Conclusion
Based on everything I've mentioned, it's safe to say that blogging is essential for your business if you're planning on staying not only relevant but competitive in your business industry.
It's more than clear that in 2020 and beyond, small and medium businesses need blogging if they want to beat their competition.