Lead Magnet Funnel Creator
A better way to generate leads for your business
Automated, scalable lead generation campaigns – built by marketers, for marketers.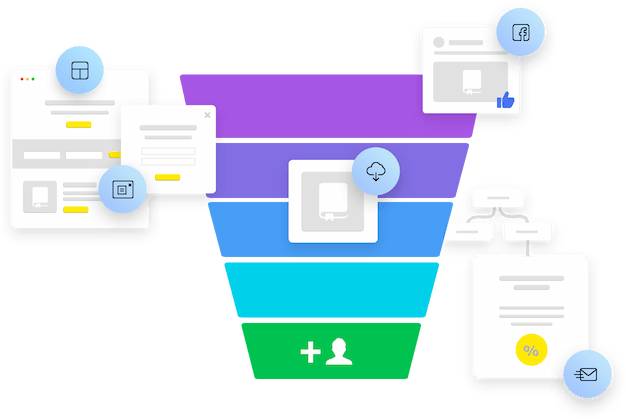 We needed a better way to generate new leads with lead magnets.
So, we built one.
Start with a relevant signup incentive

Exchange your content for an email address. Choose from a library of lead magnets to get started fast.

Find your ideal campaign scenario

Predesigned landing page and follow-up email template sets match your niche and content.

Promote your lead magnet

Targeted Facebook and Instagram ads send high-quality traffic to your lead magnet signup page.

Keep an eye on your list growth

Analyze every step of your lead generation campaign's performance.
No matter how big or small, we all survive on new leads. At GetResponse we're no different. We use high-quality content to nurture our existing customers, but we're also using it to attract new audiences.

Lead Magnet Funnels makes the entire process incredibly easy yet powerful.
We use it for our lead-gen campaigns, which saves us a lot of time and resources. The feature worked so great for us, we've decided to share it with
a wider audience.
An automated, optimized way to promote your lead magnets
Lead magnet funnels connect the tools and necessary steps that turn manual, ineffective list building tactics into automated, high-converting lead generation campaigns.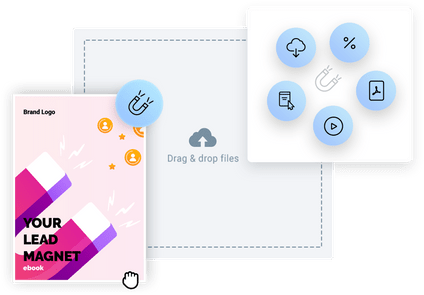 Upload your resource (lead magnet)
Test different types of lead magnets
Encourage signups with relevant content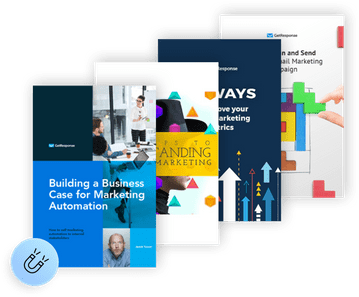 Launch campaigns without your own content
Browse a library of high-quality lead magnets
Select the best one for your target audience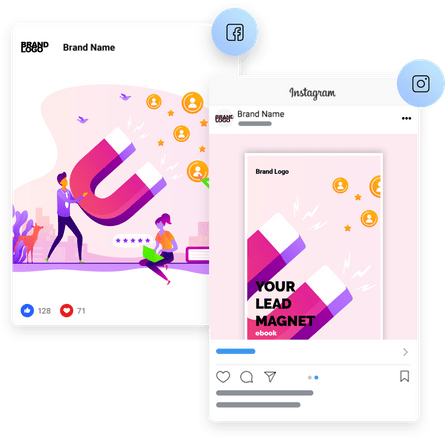 Find and attract the right audience
Promote your lead magnet with Facebook and Instagram ads, created directly in your GetResponse account.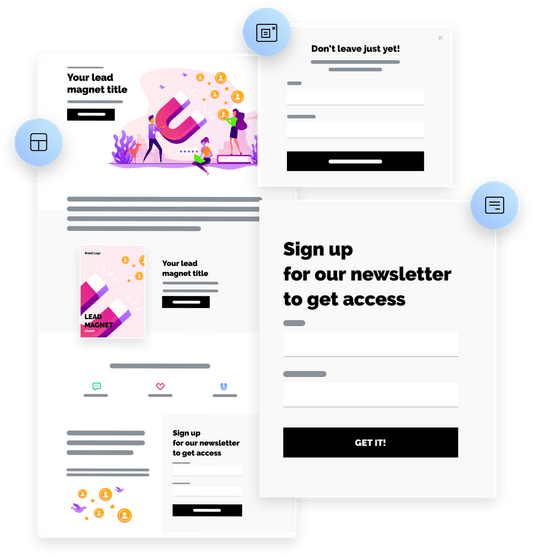 Turn the traffic into a stream of leads
Customize SEO-optimized and mobile-friendly landing pages that are designed for conversion.
Your lead magnet offer is automatically populated on your landing pages to speed up each step.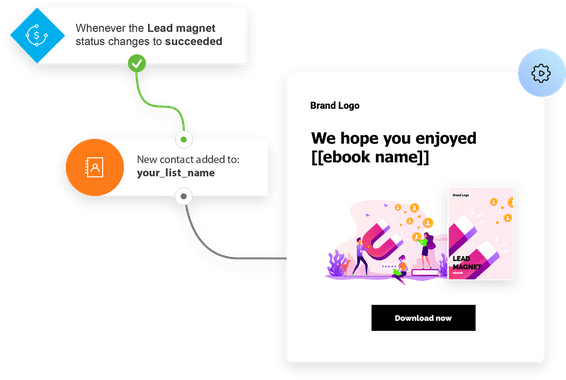 Follow-up actions are automatically triggered
Your lead magnet is automatically sent upon signup for easy, secure access.
Your landing page is equipped with an exit popup form to offer a different incentive for another chance to entice your page visitor to sign up.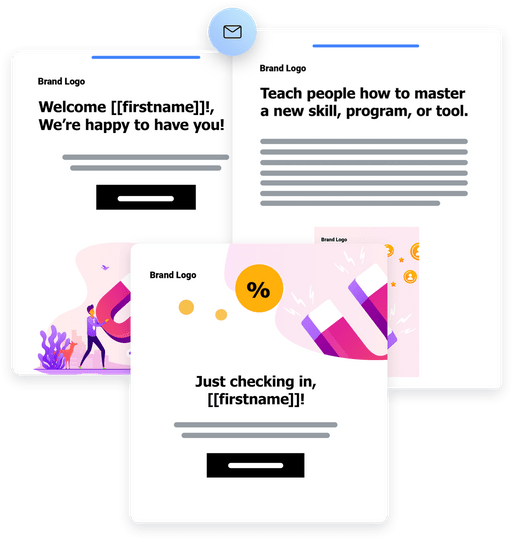 Nurture new leads with an engaging email series
Nurture your contacts with an automated email series designed to build trust and connection with your business.
Welcome your new subscribers, promote exclusive offers, send follow-ups, and keep their engagement with your offers high.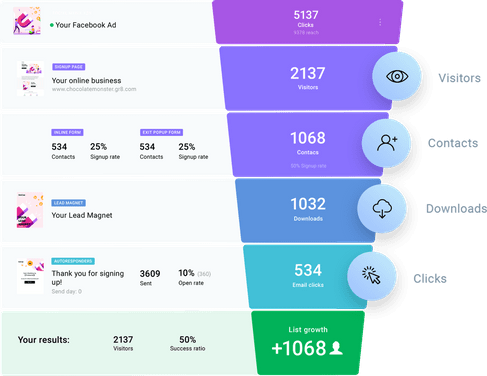 Get easy access to all of the data on your lead magnet conversions
Monitor your Facebook Ads, landing page visits, and downloads. You can optimize each part of your funnel based on your results.
Resources to help you create successful lead magnets
Check out the best-performing lead magnets types and tips on how to make them resonate best with your audience.

READ THE REPORT ›

Explore lead magnet ideas, learn how they work and how to choose one to acquire quality leads.

SEE EXAMPLES ›

For advanced tactics and a deeper look into our Lead Magnet Funnels, check out our dedicated Conversion funnel Help Center.

HELP CENTER ›
Lead magnets explained
What is a lead magnet?

A lead magnet is a free offer, such as an ebook, guide, template, or webinar, that is designed to attract and engage potential customers and generate leads for a business. Lead magnets are typically used to provide value to potential customers and incentivize them to provide their contact information in exchange for the lead magnet.
Why is a lead magnet important?

Lead magnets are important because they provide businesses with a way to attract and engage potential customers, and generate leads for their business. By offering valuable and relevant content, lead magnets can help establish a business as a trusted and authoritative source in its industry, and help build a relationship with potential customers.
What are some common types of lead magnets?

Common types of lead magnets include ebooks, guides, templates, webinars, and email courses. Lead magnets can be delivered in a variety of formats, such as digital downloads, videos, or email series.
How can I create a successful lead magnet?

To create a successful lead magnet, you should focus on creating a lead magnet that is relevant and valuable to your target audience. You should also make sure that the lead magnet is easy to access and consume, and that the lead capture form is simple and straightforward. Additionally, you should promote your lead magnet through your website, social media, and email marketing efforts.
How do I promote my lead magnet?

To promote your lead magnet, you can use a variety of tactics, such as creating a landing page, adding a call-to-action to your website, promoting your lead magnet through email marketing, and using social media to promote your lead magnet to your followers. You can also use paid advertising, such as Google Ads or Facebook Ads, to promote your lead magnet to a wider audience.
How do I measure the success of my lead magnet?

To measure the success of your lead magnet, you can track metrics such as the number of leads generated, the conversion rate, and the average time on page for visitors to your lead magnet landing page. By tracking these metrics, you can identify areas for improvement and optimize your lead magnet for better results. Additionally, you can ask for feedback from your leads and use it to make further improvements to your lead magnet and lead generation efforts.