Subject: $NFLX - Swing Trading Done Right
In our premium weekend newsletter, we showed you how to use simple chart patterns to forecast what could happen in the indexe

s and leading stocks.
NFLX is a good example of this.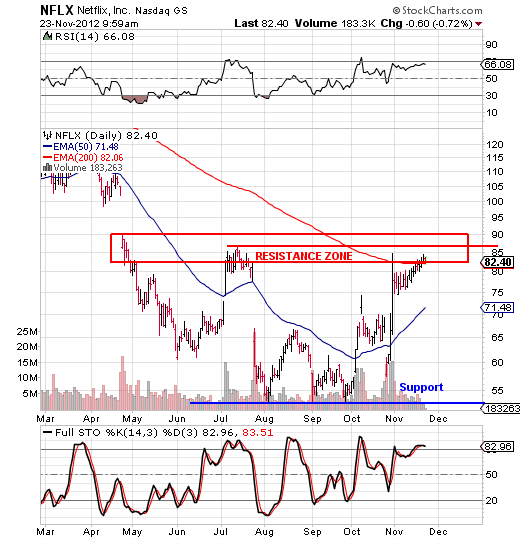 This is how NFLX appeared on November 23 when we issued a Trade Trigger email alert to our paying subscribers to short NFLX at $82.63. All it did was rally back up to an area of resistance on light volume.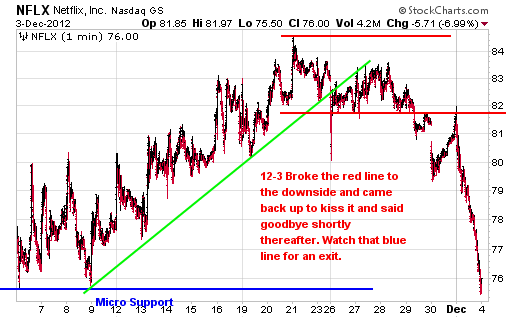 NFLX fell off the cliff and our paying subscribers locked in gains of $1,576!! And for those that also have our Fun Money options service, they bagged another $

485!
Total gains in a week's time -- $

2,061!!!
Since our inception in August 2008, we've outperformed the S&P 500

9

to 1 all from simply trading basic technical analysis chart

patterns.

You can trade in tandem with us by signing up for our paid newsletter where for just $10 each month for the first two months you get our watch list of stocks and trade alerts when we buy a stock and when we sell it -- we make it easy for you to trade in tandem with us

.
There's two ways to get started today!
1. Sign up for our regular stock market newsletter -- we have a two-month special for just $10/month, then $29.99/month thereafter
OR

2. Sign up for All About Trends

free newsletter here

and if you'd like a copy of our premium newsletter to peek behind the curtain just respond to this email and let me know and I'll forward you a copy of today's newsletter. ~ Jeff
We try to make it really simple for you to profit in these volatile markets:

1. Each trading day and weekend we give you an overview of the markets and a game plan to profit from it.
These are simple charts that are easy to read and see where support is, where resistance is and what to do when stocks hit either level.
2. Based on that plan, we have a watch list of stocks and when a stock triggers a trade, we issue a Trade Trigger email alert followed by a Locking In Gains email alert.
We even break out suggested share allocations for portfolio sizes of $25,000, $50,000 and $100,000 to make it easy for you to practice risk management and not let your emotions control your trading.
3. We have a 2-month special where you get to profit with us for 2 months for just $10/month from either our stock or options service -- sign up for our options service and get both our stock and options newsletters!
We're not sure how to make it any easier. And all you have to do is sign up to enjoy success in the market.
"Your letters are incredibly anticipated, your outlook encouraging, and give me, and I'm sure I speak for many, the confidence that we are correct in our approach and understanding of the market," Marc -- Italy
---
"You are simply the best. I subscribed to a few paid services before. They all ended up losing big. But you consistently read the market correctly so I make money and I trust you a lot now," Dale -- Bridgewater, NJ














THESE ARE NOT BUY RECOMMENDATIONS!

Comments contained in the body of this report are technical opinions only. The material herein has been obtained from sources believed to be reliable and accurate, however, its accuracy and completeness cannot be guaranteed. All About Trends reserves the right to refuse service to anyone at anytime for any reason.